Meg Warren has spent her life working with gymnastic coaches and judges throughout Britain. Not surprising, given that she was born into a gymnastics family…
As one of three children to Pauline and Jim Prestidge, Meg soon found out what it was like to be part of a gymnastics family.
Her sister Mary, a gymnast, who went to the Olympics in 1968.
Her mother, Pauline was the coach to the British team at the 68, 72 and 76 Olympics and ran gym clubs at Bexley Ladywell and North Staffs.
Her father, Jim was a pioneering soul who loved the stories, history and photography in gymnastics.
As Meg says…
"I am one of those lucky people who's found a way to turn my hobby into my life's work. There are some lovely photographs and stories in the history of British Gymnastics, of which I am very proud to have been a part of… this website is a tribute to my mum and dad and the archives we've built up in that time"
As a child I thought everyone did gymnastics, it was part of the fabric of my family… It's what we did, but little did I know what a Cinderella sport it was at the time, struggling to get along and get noticed.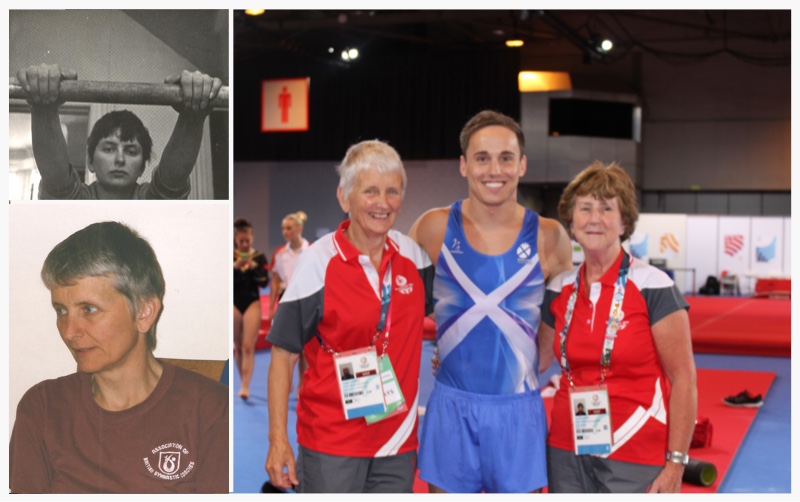 My parents Pauline and Jim Prestidge were champions of that struggle and in 1948 they helped train local gymnast Joan Airey for the London Olympics. Back then, they had to make do with homemade apparatus and setting up their temporary gymnasium in local parks and an old brewery.
I well remember back in the 1950's my dad's scribbles & photos strewn across our kitchen table (in Sidcup), all in readiness for the next edition of the recently revived 'The Gymnast' magazine. It was then promptly printed and packed up on that same kitchen table and ready to go out to subscribers. Great memories at the very start of my gymnastic history.
My story begins… with my mum as the coach, at Bexley Girls Gym club where I first did gymnastics from the age of 10. In those days clubs wouldn't take girls under this age. I wasn't terribly good, (the pinnacle of my gym career being the London and South East U.16 swinging rings champion), but a good starting point for me, in a sport that would shape my life.
My dad (Jim) being the pioneer that he was, in 1964 became the first paid general secretary for the 'Amateur Gymnastics Association' as British Gymnastics was known as then.
In 1967, my mum (Pauline), became the British Women's coach. She went to three Olympics, starting in 1968 (with two gymnasts, my sister Mary Prestidge and Maggie Bell) followed by the '72 & '76 Olympics.
My involvement in gymnastics took a proper hold after leaving college, when I got married to Bunny Warren and gave birth to three boys (Paul, Keith & Neil). I then became coach for Bexley whilst my mum set up the Ladywell Gymnastics Club.
I went on to coach National Squads before our big move to Leicestershire and also became an international judge. I was lucky enough to represent GB at three World Championships, whilst continuing coaching career at Hinckley, Coalville and Birmingham.
In the same literary vein as my father, I wrote two books on gymnastics coaching and also helped set up (with Colin Wright & Bunny) the ABGC – Association of British Gymnastics Coaches, producing regular technical mail outs. At the time, there was precious little coaching material so, I found it very fulfilling to help coaches improve their coaching skills, which I did for 20 years. I also do gymnastic figurines/drawings for various publications.
My husband Bunny became chairman of the Women's Technical Committee and then Technical Vice President for British Gymnastics.
All the boys did gym and Keith carried on until he was 17 yrs old as a club gymnast.
Now having retired and with time available I feel it's appropriate to try and archive some of the gymnastic material that I've collected at home along with my Dad's and Alan Burrows photos. I've included old Gymnast magazines and stories of some amazing people who have made this sport what it is, starting way back in 1888.
I want to thank Keith Warren, my middle son, for his enthusiasm and direction with this project along with Warren Slingsby, who is our website genius.
Both myself and Keith feel a sense of duty to carry on where my parents left off and continue 'the History of British Gymnastics', which ironically was the title of my fathers book (back in 1988) chronicling the first 100 years of the sport in Britain.
All of the material, results, photographs, articles and people are a reflection of all that history, and I hope you enjoy it as much as I have.
© GymnasticsHistory.co.uk 2018