AVRIL LENNOX MBE
In her own words
Background: Avril's gymnastics career began at her local High School when aged eleven. Over the subsequent ten years Avril went on to represent her country, competing and training around the world.
The Scottish link: Avril's Scottish background (her parents were Scots) enabled her to compete in the Scottish Championships, which she won over consecutive years from 1970 to 1972. 
Ambitions: One of Avril's key ambitions was to compete in the Olympic Games, an ambition which was realised when she became the youngest British gymnast to qualify for the 1972 Munich Olympics in Germany.  Avril gained valuable experience at those Games, whilst also witnessing the extraordinary performances of the tiny Russian gymnast Olga Korbut and her team-mate Ludmilla Tourischeva.
Tragedy: However, her first Olympic experience will always be remembered for something other than sport. In the early hours of 5th September 1972 eight Palestinian terrorists broke into the Olympic Village, killed two members of the Israeli team and took nine more hostage. Like many Olympians, Avril witnessed the terrorist activities unfold from her apartment overlooking the tragedy. After hours of tense negotiations the terrorists and hostages were flown to a military airport in Munich. A horrifying gun battle ensued claiming the lives of all nine hostages. Avril found it extremely difficult to fully comprehend the events of that day, but when she attended the memorial service in the Olympic stadium and saw the Olympic flag flying at half mast, the realisation hit home.
Scholarship winner: Avril was delighted to become the first British gymnast to be awarded the Winston Churchill Travelling Scholarship in 1973, made extra special as it was presented to her by Prince Charles in the Royal Festival Hall, London.  She travelled to the United States of America in April 1973 for four months in pursuit of excellence in Gymnastics.
After returning from America Avril continued to compete internationally. She competed in three European Championships and also in the World Championships. Avril became British Gymnastics Champion for four consecutive years from 1974 to 1977.
Other UK achievements over the years included:
English Schools Champion from 1973 to 1975
Royal Albert Hall Champions Cup winner from 1973 to 1976
British Individual Apparatus Championships:
1972 – Vault Champion
1973 – Vault, Beam, Floor and (joint) Bar Champion
1974 – Vault, Beam and Floor Champion
1975 – Vault, Beam and Floor Champion
1976 – Vault and Floor Champion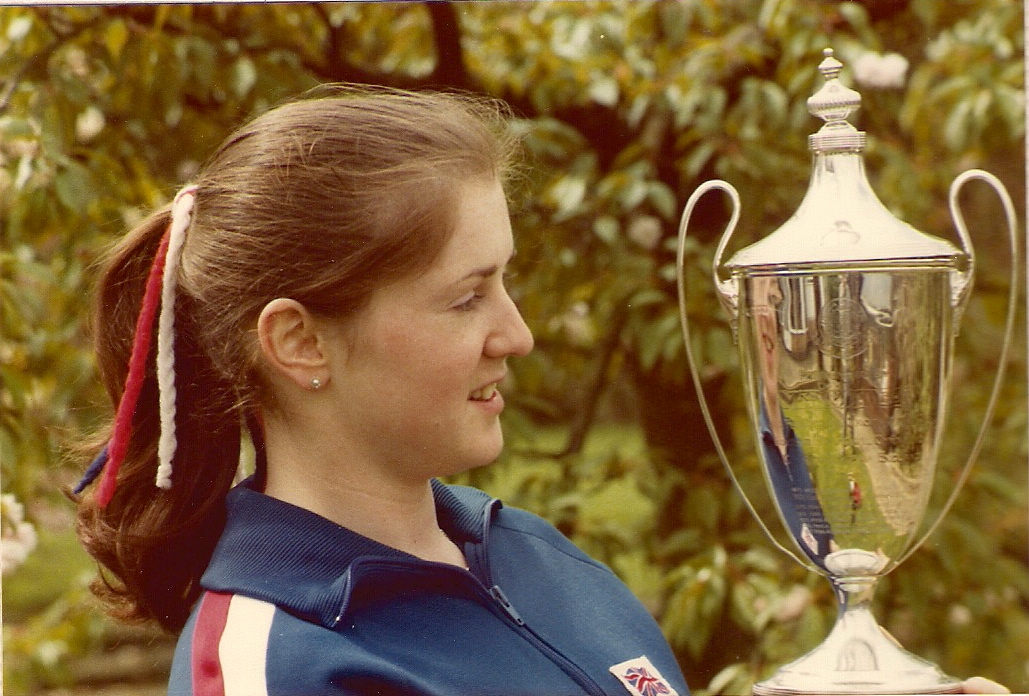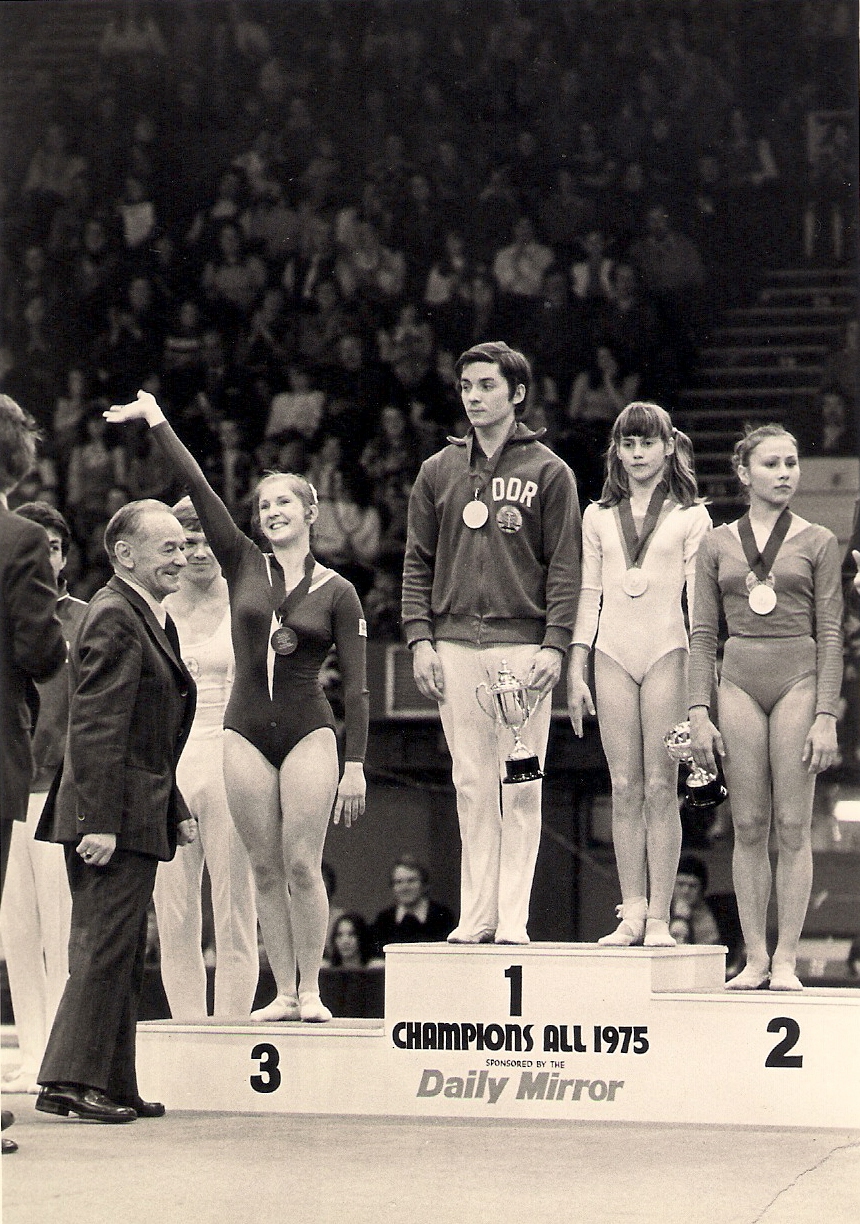 Romania: In 1974 Avril spent three months in Romania, learning new techniques and taking her gymnastics to the next level. It was here she first witnessed the dazzling acrobatic skills of the then unknown Nadia Comaneci. 
Avril went on to represent Great Britain at the prestigious International 'Champions All' event in 1975, finishing 3rd to winner Nadia Comaneci. A year later in 1976 she finished 2nd equal with top Russian gymnast Lidia Gorbik.
Biggest achievement: Avril's biggest achievement was at the 1976 Montreal Olympics. It was here she became the first British gymnast to qualify for the Olympic all-around finals.  She competed against Russian gymnasts   Ludmilla Tourischeva and Olga Korbut, as well as Romania's Nadia Comaneci, all of whom were credited with popularising the sport around the world.  In celebration of Avril's achievements she received a personal invitation to join the Queen and Prince Philip for cocktails on board the Royal Yacht Britannia, which was docked in Montreal for the duration of the Olympics.
 MBE: After her competitive career Avril was awarded the MBE by the Queen for her contribution to sport. She then began coaching in her home town of Leicester where she established her own gymnastics club. Here she coached girls to National and International standard, with one gymnast going on to represent the country in the 1986 World Championships, and another competing in the 1989 European Championships.
British Coach: British Gymnastics also recognised Avril's coaching achievements; as a result she was selected as British Team Coach for International competitions both home and abroad during the 80's. In addition Avril was selected to accompany the Daily Mirror Scholarship winner to Russia for a month of intensive coaching at the renowned Vladimir School of Gymnastics. 
National Committees: During this time Avril served on a number of high profile committees, including the Central Council for Physical Recreation Committee chaired by the Minister for Sport, and the Sports Aid Foundation Committee working alongside other elite athletes including Seb Coe. The aim of these committees was to help shape elite pathways for our most talented sports people and to encourage people of all ages to take up sport.
Golf: Sport has remained a major part of Avril's life, indeed when she retired from competitive gymnastics she took up golf. Playing off a single-figure handicap Avril was selected to represent the Leicestershire County team.
London 2012: Avril was involved in the Olympic Torch Relay in 2012, and acted as an Ambassador during the London Games working for both the British Olympic Association and the London Organising Committee of the Olympic Games (LOCOG). One of her responsibilities during the London Games was looking after FIG representatives such as her fellow competitor Nellie Kim.
Present day: Avril is currently the Head of Leisure & Wellbeing for a Local Authority in South Leicestershire.
In 2014 she was the driving force behind some major facility developments for Oadby and Wigston; this included two new swimming pools, fitness gyms and a refurbished leisure centre at a cost of £9.5million. These facilities were formally opened by Colin Jackson and Rebecca Adlington. More recently she has been overseeing a further £1.2million investment to further improve leisure and recreation for the area, for the benefit of local residents.

© GymnasticsHistory.co.uk 2023  |  Est. 2018