At just five days old I was at Crystal Palace Sports Centre for the 1979 Guinness School of Sport and in the gym for the first time. My parents Bernie & Colin Wright were both coaches so I had chalk between my toes at a very early age. I went from competition to competition and gym to gym and didn't ever know what life was like without gymnastics.
Somersaults, not on the gym mat but on the trampoline 
I learnt to forward somersault on a trampoline before I was 2 and backwards somersault before I was 4 but my parents never encouraged me to go into gymnastics but always supported my decisions. At school I participated in all sports and made every school team apart from tennis. I enjoyed team sports but decided that I would like to try badminton. Well… that didn't last long as there was a trampoline club training on the court next to mine. I had no idea it was its own sport at the time but I knew that I was desperate to try bouncing around. Little did I know that it was going to be my career until I was almost 40.
Junior National Team 
I took to trampolining quite well and I loved to train and compete. At the age of 11 I was in the junior national team and started competing abroad and by 14 I was competing in my first senior World Championships in Portugal. I was thrilled to come home from that World's with a bronze team medal and a determination to achieve more. As a young child my mum always said to me "you're the best in the world" and when I won my first World Cup I called my mum from Canada and said "mum, today I am the best in the world" 
2008 Olympics 
It feels like yesterday that we had the last Olympic trial and I was told that I would be the athlete competing in Beijing. That was a strange feeling for me. I had been competing in the sport for 22 years, won 52 World and European medals, 7 consecutive British Championships titles and now I was going to the Olympics. 
It was in some ways a relief to have secured a place after waiting for so long and just like any other competition it was time to knuckle down and start preparing for it. It was only two months away but the preparation had started long before.
I had already decided that I would like to go to Cirque du Soleil and had put forward my interest to them. This helped me to relax a little knowing that my future was somewhat secure and so my focus could be on my training.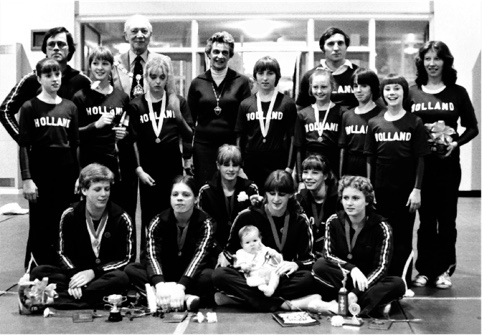 Above – Baby Claire with the Camberley team in their match against a Dutch team – Photo Alan Burrows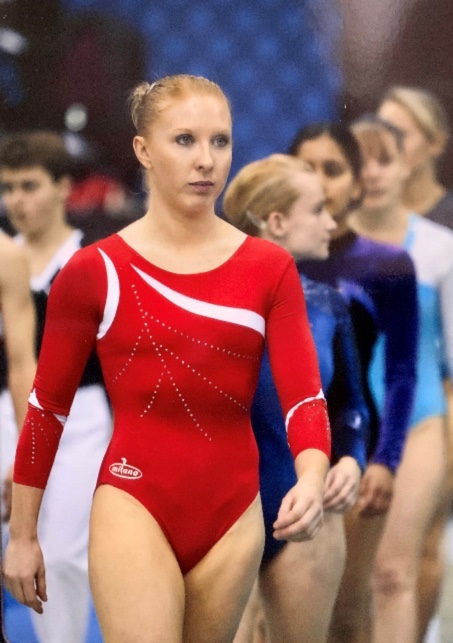 Above – Claire walks out to compete at her last British Championships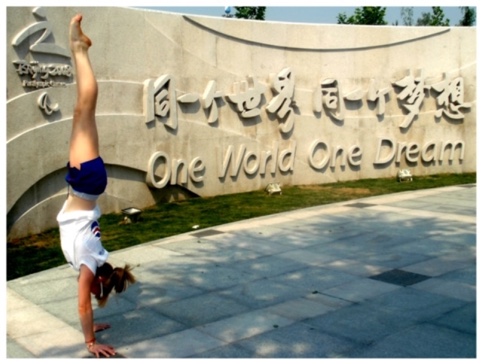 Above – Claire relaxing in Beijing
My last British Championships
Before the Olympics I still had the British Championships to compete in. Usually, the British was the most nerve-wracking competition of the year for me. I always felt more pressure than doing any other event. This time I felt more relaxed, slept unusually well the night before and went in smiling. The first day was was a little rough and I think I went into the final in 3rd place. This was not what I wanted so the nerves kicked in a little, I didn't sleep so well, but I went in confident and came out with my 8th title.
British Olympic training camp
Next stop would be Macau for the British Olympic training camp. It was important to have that training camp to acclimatise to the time zone, the weather and to just get used to the buzz that was going on around the big event.
After a couple of weeks' training, we transferred to Beijing and the Olympic Village. Once there we still trained outside of the Olympic Village in a school. It was great to finally see some of the other competitors and friends from around the world.
Just a day or two in was the Opening Ceremony which took place on 08.08.08 at 8pm Beijing time. Thousands of us all sat in the gymnastics competition hall with our team and waited for our number to be called. This is where we watched the opening ceremony on big screens before we walked across in lines to the Birds Nest stadium. I was in the front line of Team GB as we went in height order and I was one of the smallest athletes walking.
Stepping into the stadium was an incredible feeling, it was the start of the Games and a very proud moment.
Jumping in the dark
The next week went by very fast; training was going well but we still hadn't stepped foot on the floor in the competition arena. I had never trained or competed on a podium which was a bit of a worry as it wasn't as stable as a normal concrete floor and they had only given us an hour to train the day before. The other strange thing was that if you jumped over a certain height you went above the spotlights and it was a little dark before returning to fully lit stadium, all things that we all had to adjust to for the Olympic setting. Competition day came and we had a very early start. Once I arrived at the arena, I felt quite calm and ready to perform the routines that I had been practicing time and time again. I was second up in the first group which for me was great. We had been told that we couldn't leave the competition floor so we had a long time between our set routine and the voluntary while we waited for group 2 to warm up and compete.
I was ready and calm
Once the time had come to do my voluntary exercise, I was ready and calm. I was the first to do a triple somersault and most of the crowd had never seen trampolining before so there was a loud gasp. On the whole both my routines went well but I had one costly move towards the end. Looking up at the board I thought I could still make the final, a friend from another country was standing next to me and she had just beaten me into the final. She said "no way your routines were much better than mine". It was nice of her to say but it didn't make it any easier. I was very disappointed not to make the final and I felt that I had let so many people down, especially my coach Nigel Rendell.
However, although disappointed it was still an amazing end to my career. I was and always will be an Olympian and I still had a week of the Olympic Games to enjoy.
Above – Claire Wright competing at the Beijing Olympics in 2008 – Photos courtesy Grace Chiu and British Gymnastics
What an honour
Being part of Team GB was an honour, the support staff, coaches, physios and doctors all made it an incredible experience. The whole month was pretty surreal. We were in this little Olympic bubble right until the moment our plane landed back in the UK. Looking out of the window of the plane as we were coming into land we could see security helicopters surrounding us, due to royalty, dignitaries and the whole of Team GB being on one flight. 
As we stepped off the plane, we met the prime minister and the bubble was about to burst. Back to reality and "Normal" life. What was normal though? I was about to take an extended period of time off for the first time in my trampoline career. At 29 years old it was going to be the first time that I hadn't jumped on a trampoline every day, lifted weights, gone swimming, worked on my pilates or ballet. 
I was ready to perform 
For the first time I had no schedule. Well… that didn't last long as by the end of the week I had received a call from Cirque du Soleil asking me to go to Montreal for training straight away. Thank goodness that was the case, I wouldn't have known what to do with my spare time. My new life was starting and a new bubble was forming. Trampolining had been my life and it was going to continue to be my life in a new and exciting way. I was ready to not just go out and compete, I was ready to perform! 
I was fortunate enough to work for Cirque for almost ten years and it was the most incredible ten years. I loved being able to continue jumping but also really tap into my creative side. I loved performing and was so happy when I was able to step out of my usual box and take on a backup acting role within the show. On occasions I played one of the main characters within the show, it was incredible seeing the show from a different perspective and challenge myself. However, nothing was more challenging than when I was asked to audition for and ultimately back up one of the clowns. Now that was fun, challenging, exhausting and incredibly fulfilling. It was the proudest moment of my life when I stepped onto the stage in my clown make up for the first time. This wasn't something which I had trained for but without gymnastics and trampolining would have never been a possibility. I can't imagine my life without those big shoes now, it was the perfect ending to my time at Cirque.
Return to the UK 
Since Cirque I have returned back to the U.K. and am now one of the Directors at the gym my dad started in 1974. I work alongside my parents to ensure that 600 children are loving the sport of gymnastics. It is my passion to ensure that gymnastics is there for every age and ability and I love working with the gymnasts and seeing their smiling faces come through the door each day. 
I could never have imagined when I started trampolining that I would be competing for so long and have so many adventures. It wasn't all plain sailing but it definitely gave me a great deal of confidence to tackle most things head on and to know that I didn't need to limit myself. There are endless possibilities in life and we can achieve anything we are willing to work for.
by Claire Wright
Published February 2023
CLICK IMAGES TO VIEW FULL SIZE
© GymnasticsHistory.co.uk 2023  |  Est. 2018