DICK GRADLEY

in conversation with Meg Warren

Before Gymnastics
Dick was born on the 6th March 1932 on the Mile End Rd in the east end of London. On leaving school, Dick had several jobs including farming.
His dad was an enthusiastic sportsman and boxer and served in the army. As a result Dick got involved in boxing and it became his ambition to be a professional boxer. However, he was then called up for national service, so he contacted his boxing coach who said 'do your national service, then when you come out I'll get you a contract'. He was 18 when he joined the army.
He continued with boxing in the army. Whilst in the semi-finals of a boxing event, he got hit on the nose and he started bleeding badly as his blood vessels had burst. He had to go to hospital and the doctor said no more boxing, every time you get hit on the nose, this will happen.
Dick decided to stay in the army and went into the PT Corps.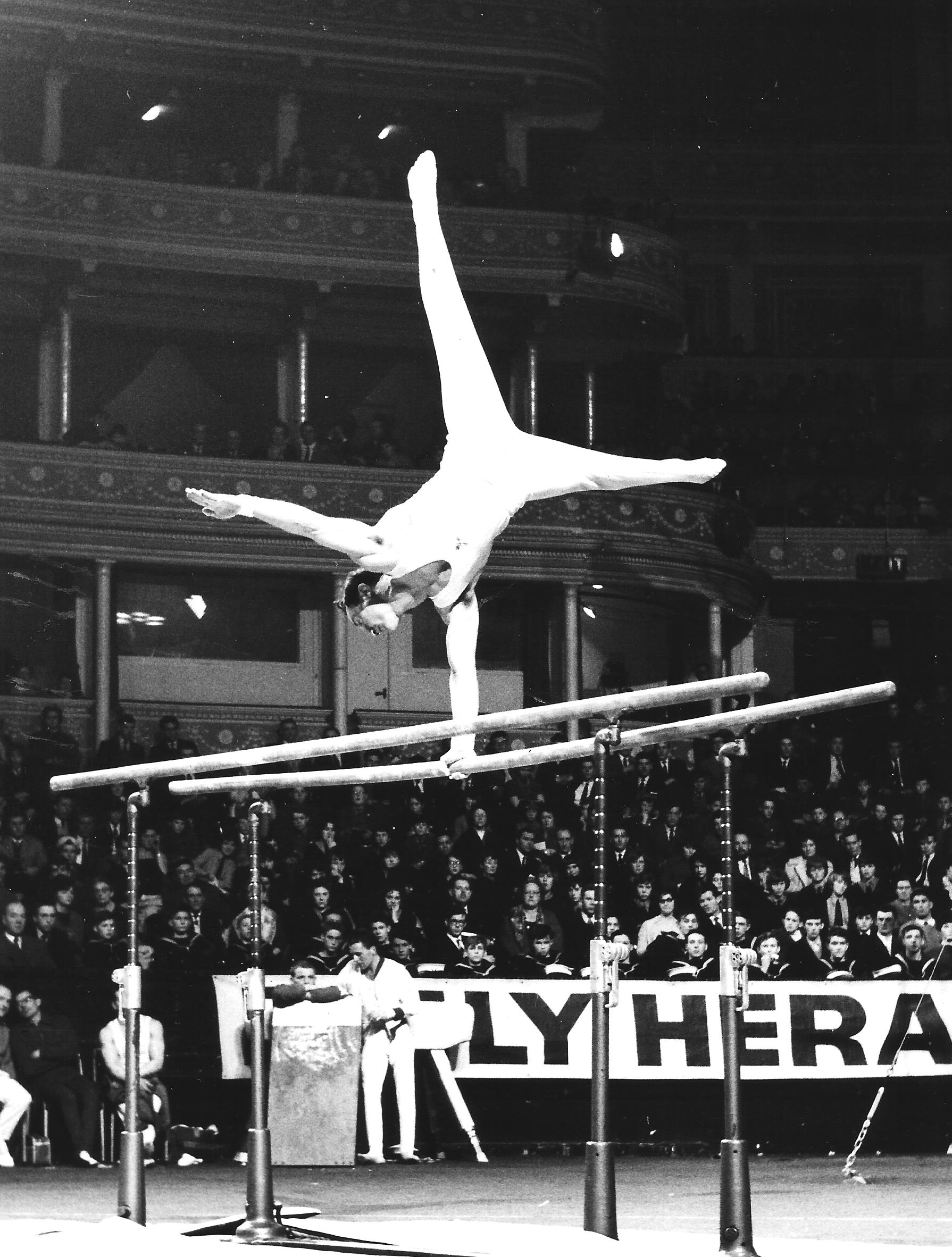 This photo by Alan Burrows taken at the Albert Hall shows the elegance that Dick was noted for.
CLICK IMAGES TO VIEW FULL SIZE
Introduction to the Sport of Gymnastics
It was about this time when Nik Stuart returned to Aldershot from his time in Singapore where he had done acrobatics whilst in the army. Tommy Slaven also returned to Aldershot having spent time in Germany, training in his spare time at a local gymnastic club. Jack Scrivener had also recently joined the army. Dick, along with Jack Scrivener went to Sandhurst as instructors to the cadets. The four of them would meet up and train in gymnastics 'like demons' says Dick. This meeting of the four was fortunate and was like an explosion he says, as they were all so enthusiastic. Dick was 21 years old but had never done gymnastics before, he was however, quite supple and this helped. Anyone who saw Dick compete will remember his range of movement and elegant lines. Dick's progress was rapid. They trained in Fox gym at Aldershot. The apparatus in the gym was dreadful but following Tommy's return from Germany, the army managed to get new apparatus into Aldershot from Germany. At some time they also had a floor carpet that could be rolled out, something that was unheard of at this time in the UK. These four gymnasts went on to win the Adam Shield in 1955, which was to be the first of 13 wins for the army, no club has equalled this achievement. Dick was to be in the winning army team from 1955 – 58 and then again in 1965.
National & International Achievements
Dick's first major event was the Europeans in Paris in 1957. A year later it was the World Championships in Moscow. He recalls that they went by train; it took 3 days to get there. It was here that they first met up with Soviet Union gymnast and World Champion Yuri Titov who had a great influence on British gymnasts, particularly Nik and Dick. Dick went on to compete in the Prague World Championships in 1962 and Dortmund in 1966.
Dick was due to compete in Luxembourg at the European Championships in 1961, but had to withdraw due to a shoulder injury, leaving Nik as the sole GB representative. In 1960 he was part of the Olympic team of 6 who competed in Rome.
At about this time, Dick was posted to Germany for 4 1⁄2 years and made a good and lasting contact with the club at Bielefeld. Following this, many matches were held between the AGU and Bielefeld.
Dick was unfortunate in some ways that his peak time coincided with Nik (Stuart's) dominance. He never won the British Championships but came 2nd to Nik on many occasions. His friendship with Nik, however, was permanent, training and competing together many times and in many different countries. I was privileged to be able to see Dick perform at the British in the Albert Hall, the Fox Gym and Stanmore Arena in international matches and the London YMCA for regional competitions. At this particular gym, down in the basement of the YMCA, off the Tottenham Court Road, all gymnasts would work on the wooden floor with coconut mats placed at their favoured position.
There was never a designated army coach. Gymnasts took turns to look after one another. Here Dick is standing by for Nik at an event where the two of them were competing.
Photo Alan Burrows.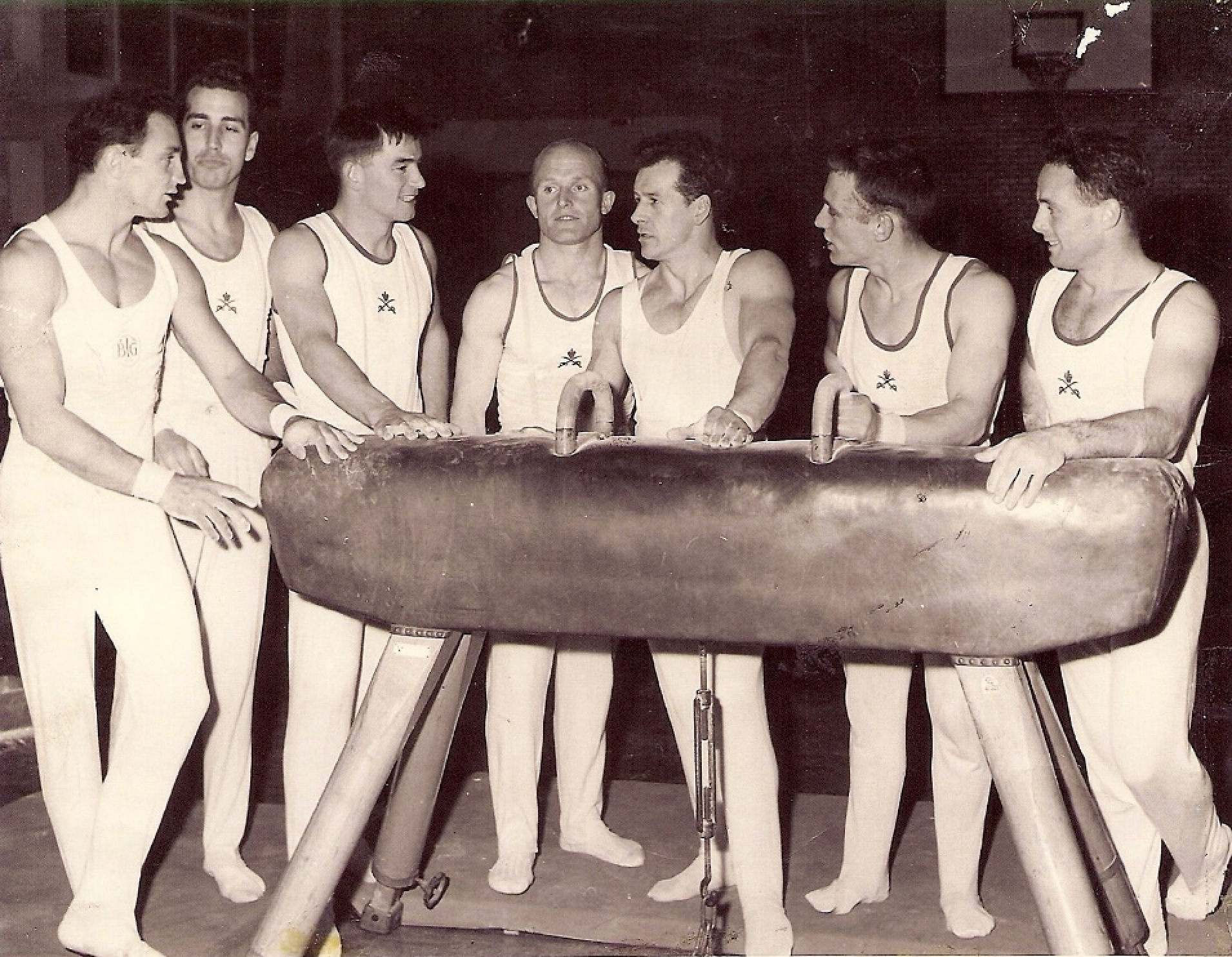 Dick left with his band of brothers. Next to Dick, Rod Coveney, then Tony Stedman, Micky Munn, Nik Stuart, Bob Trenholm and Bert Dooley.
Photo from the Army Archive.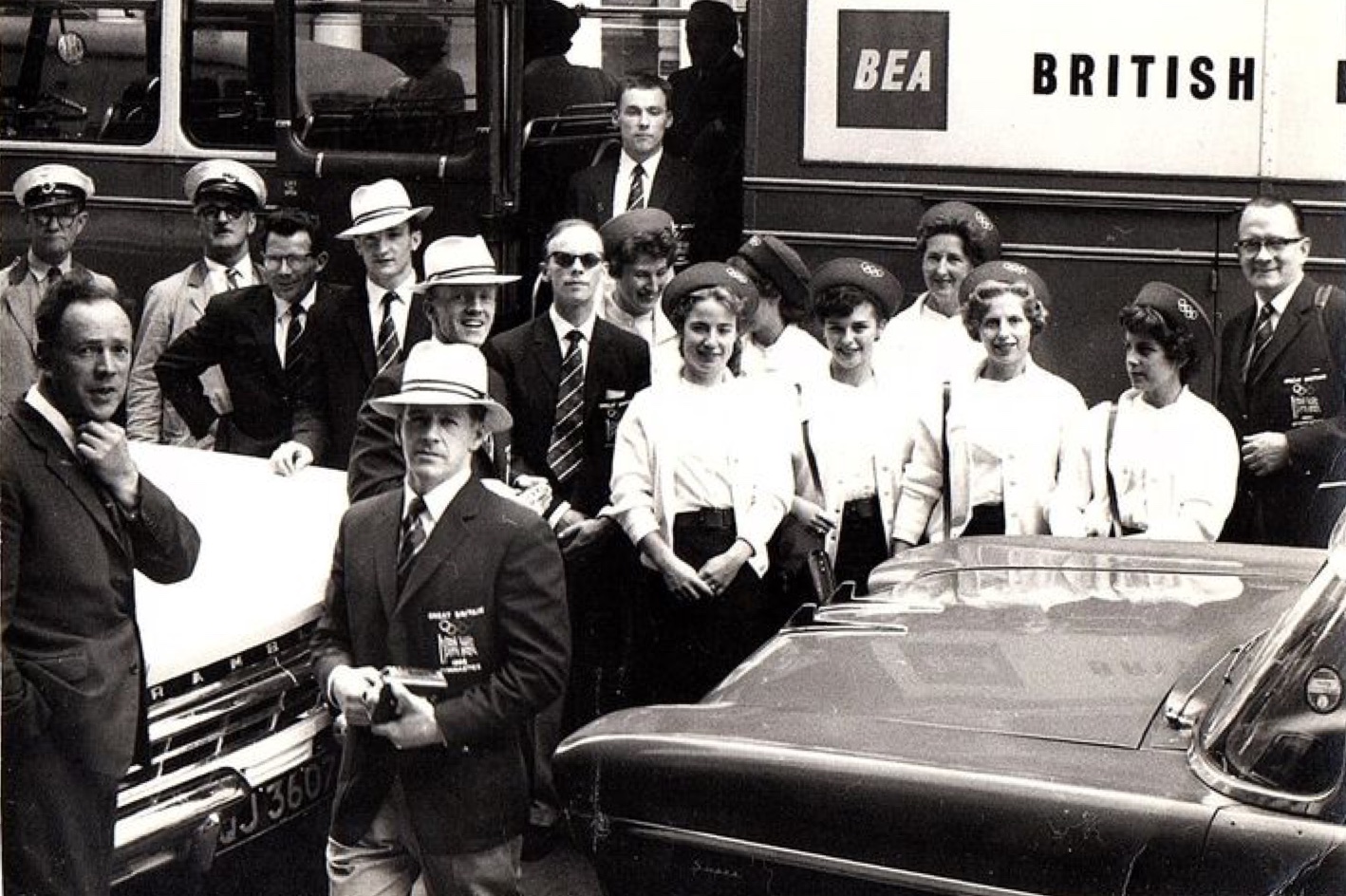 The British team off to the Rome Olympics.
Photo Jim Prestidge.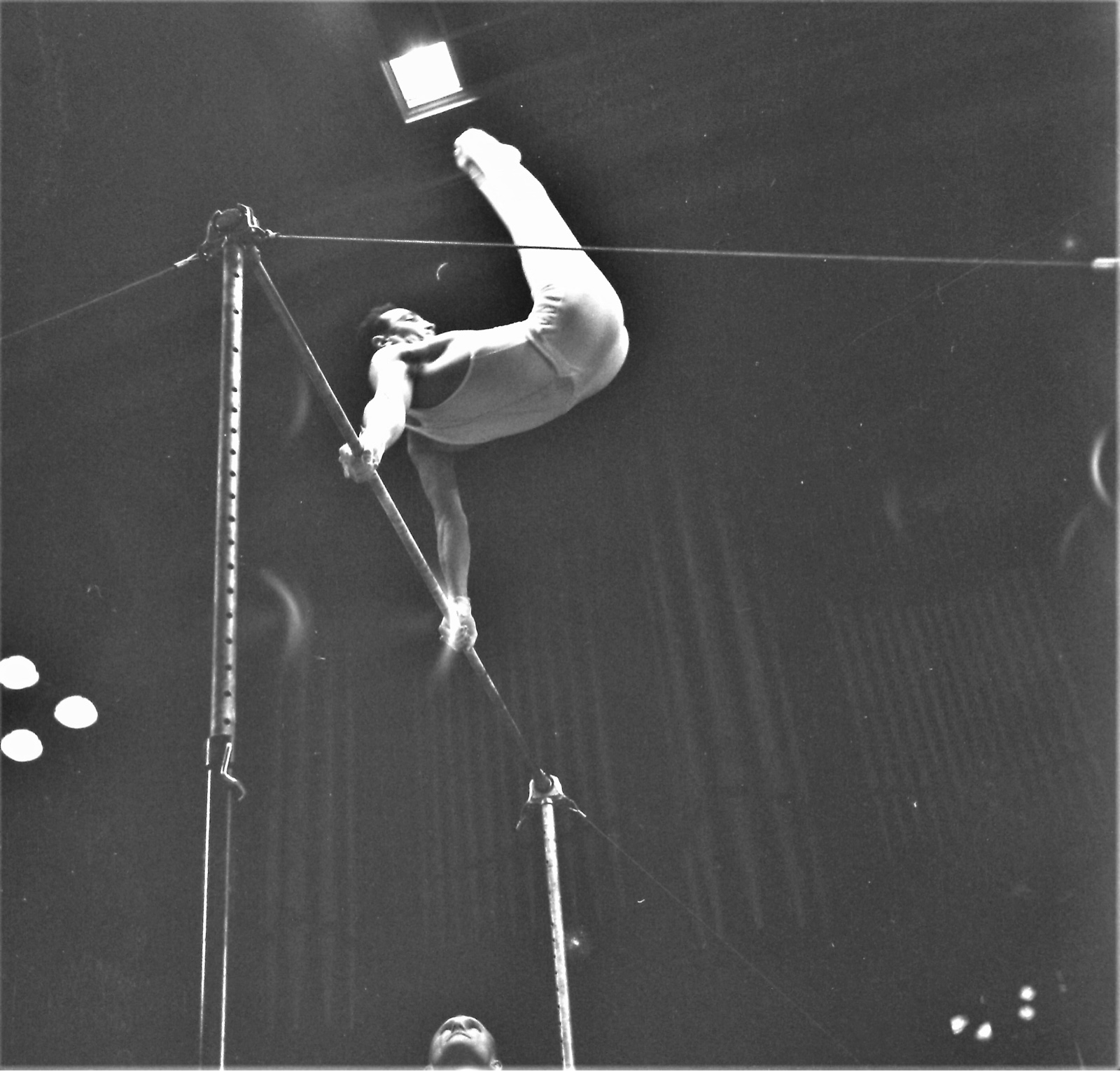 Dick Gradley at the 1963 British Championships Preliminaries at the De Montfort Hall. Most likely Micky Munn standing in.
Photo Jim Prestidge
Time to Coach
In 1966, Dick left the army and was invited by Geoff Bott to go to Leeds Athletic Institute to be the gymnastics and fitness coach. One of Dick's last competitions must have been as a member of the Yorkshire team that won the Adam Shield in 1966. All his efforts then went into coaching, training many gymnasts at Leeds, including Stan Wild, Morgan Smith, John White, Eddie Arnold and Jim Brogan.
Jim was possibly the first and the last one legged gymnast to take part in regular gymnastic competitions. Dick never saw anything as a problem so just adapted Jim's routines to suit his strengths rather than his weaknesses. It was this ability that made him such a good coach and also a guy that fix people's problems which he did through his rehabilitation classes also run at L.A.I. Dick tells me that he still has people coming to see him for exercises for their injuries even though he is now 86.
Dick with his L.A.I. Adams' Shield Winners in 1977. L-R Jim Brogan, Stan Wild, Tony Harrison, Morgan Smith, John White, Eddie Arnold and coach Dick Gradley.
Photo Alan Burrows.
Retirement?
Not only did Dick like pommel and vaulting horses but real horses. He had a field and kept horses and rode them. He had a bad fall when he was about 65, so since then, the field and horses have gone. He recovered well and went on to his next sport
Living in Wetherby and by a river, Dick bought a canoe. He became so proficient at this that, he was invited to join the York City Rowing Club and fill the 4th space in a boat. Dick went on to do long distance races forging a very successful sporting career in rowing.
It is only in the last year (at time of writing), that he has had to give up rowing alone on the water. Rowing rules in the interest of safety have put an age limit on solo rowers. Dick still goes out, but always with a partner, one of which he had to save the other day when the pair of them were out in canoes. At this present time during the winter, rowing is banned for the older members due to the risk of hypothermia but Dick still keeps fit in his garage gym. He works in the gym every day for 45 minutes. He has a rowing machine, a skier, weights, indoor bike and a punch bag where he can practise his boxing skills without getting hit on the nose.
This is Dick in 2014 
The army gymnasts meet up on various occasions and such an occasion happened back on November 2nd 2013 in Wetherby, where Dick met up with Jack Scrivener, ex international gymnast and brevet judge and Bill Cosgrave, also ex international gymnast and coach to many top gymnasts, including Terry Bartlett, British Champion and Olympian.
Jack had something of a surprise for Dick, he presented him with a large black and white photo taken 52 years previously by Alan Burrows. Alan, the Gymnast magazine photographer from 1959 to 1980, died recently. This photo plus many others was secured from Alan's archives. The photo was memorable not only for its artistry but also as it was used for the front cover of the Gymnast magazine May 1962.
Bill Cosgrave summed up the occasions
"It was a pleasure to witness Dick's face when he saw the photo and know it was for him, over 50 years since Alan clicked it!" Dick kept saying over lunch "Better than Christmas".
What of Today's Gymnasts
I asked the question, what do you think of today's gymnasts – 'Marvellous' – came the reply. He doubted if the gymnasts now have such good fun or enjoy such camaraderie as he had. Judging by the posts & photos that I see on Facebook, all gymnasts training together are blood brothers and sisters.
Who influenced you the most?
Tom Slaven was the biggest influence on army gymnastics, a marvellous guy according to Dick. Nik Stuart was also a great influence, but he remembers fondly the chance coming together of Nik, Tommy, Jack Scrivener and himself – 'a magic period of my life'.
Dick in conversation with Meg Warren in 2019
CLICK IMAGES TO VIEW FULL SIZE
© GymnasticsHistory.co.uk 2023  |  Est. 2018