HAYLEY PRICE
In her own words
Like many young girls my parents took me to dancing school at the age of 3, Dad worked on a Saturday morning and mom used to walk me miles to get there! I took classes in Ballet, Tap and Acrobatics. I loved all aspects of my dancing but as I got older I particularly Liked Acro.
At the Age of 7 we were going to Pontins on holiday with some family friends whose daughters both danced with me. They were taking costumes to enter a talent show at the camp something new for us but we were talked into it, so I took my acro sequinned costume with me! After my performance the host of the show called out " Mom where ever you are this girl has talent, you need to take her to gymnastics"
I had by then started to watch gymnastics on TV my hero being Olga Korbut but loving all Russian gymnastics in the 70's. Nadia was my second hero all be it Romanian. I was hooked on Gymnastics!
On returning from holiday mom hunted for a gym club in Wolverhampton, and it was through Mr Jones a Teacher at my Primary School that we found out about trials at the newly formed Wolverhampton Gym Club based at Compton Park Leisure Centre. I passed the trial with flying colours and they made an exception by allowing me to join at 7 years old instead of the statutory 11 years Old. My coach then became Hazel Mulliner/ Palmer.
During my time with Hazel we very much learnt and grew together in our ability as coach and gymnast.
At 9 years old I attended a gym camp at Crystal Palace; it was quite daunting as I didn't know a soul and had never spent a week away from home by myself! It was all worth it as I had the most amazing experience working with National Coaches and learning so much in a week! The thing I remember most was at the end of the week myself and parents were told "I look forward to seeing you in a GB tracksuit in the future" That coach was Colin Wright. A GB tracksuit would be my next goal.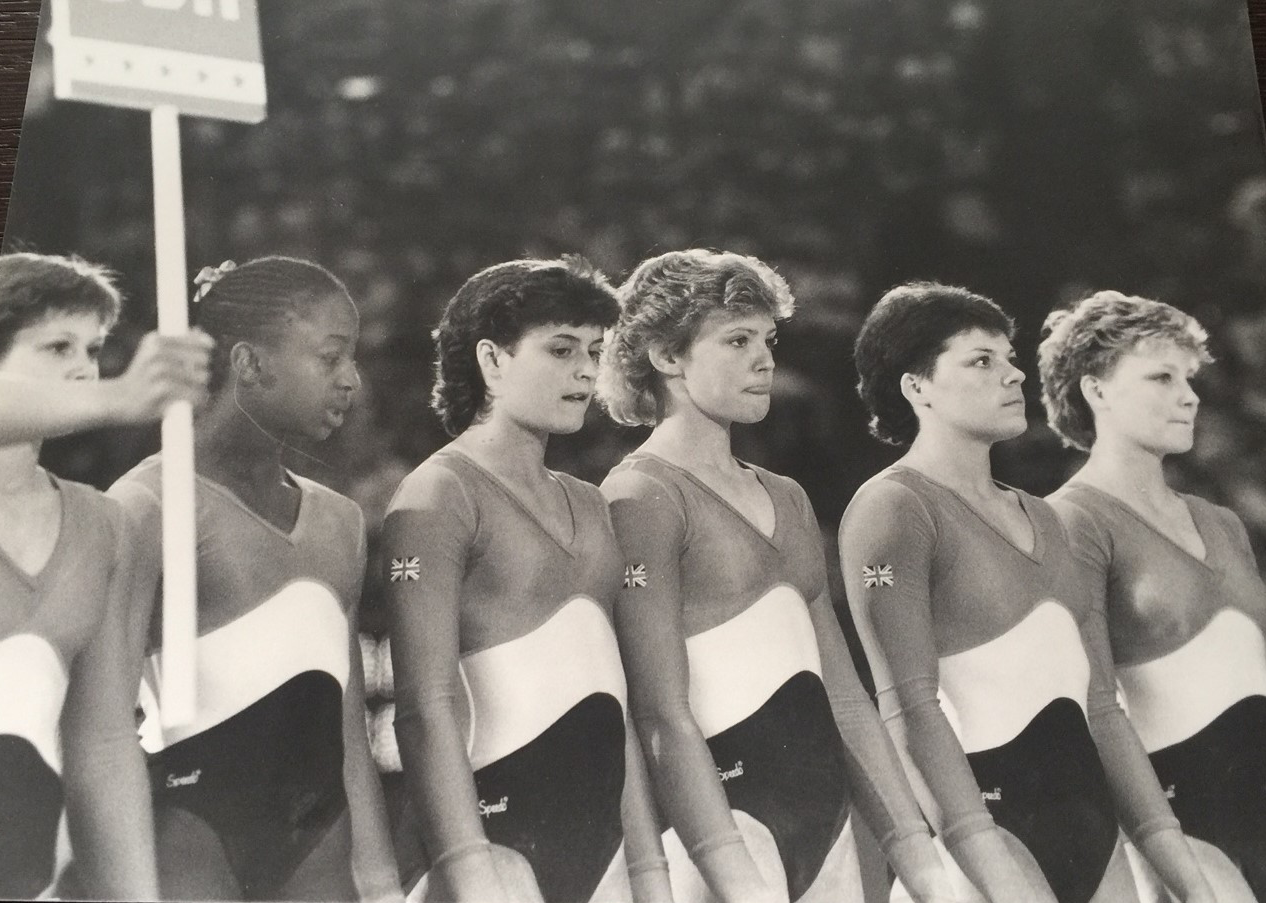 Photo shows Hayley at the LA Olympics with fellow gymnasts L to R – Natalie Davies, Kathie Williams, Sally Larner, Lisa Young, Amanda Harrison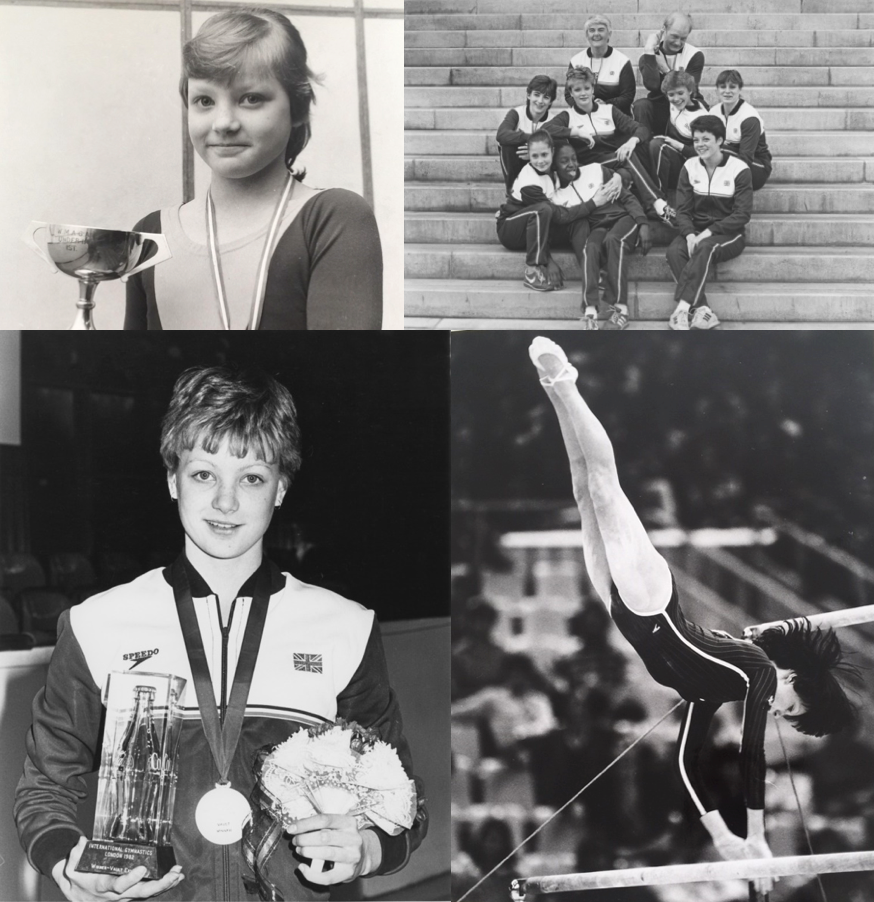 Making the Regional Team to compete in National finals of Lilia White was a big step up as I was going to compete at Wembley Arena on a podium! Then came ESGA Internationals
MAIN HIGHLIGHTS
1981 – Russian Scholarship Winner / Crystal Palace (Third time Lucky!) Training In Russia for a Month.
World School Games-Lille Bronze on Floor
World Championships- Moscow (Age 15)
1982 – Winning Coca Cola International Vault Final  Having a vault named after me
1982 – Had Cartilage Op on Knee (not  such a Highlight)
1983 – British Overall Champion
European Championships Gothenburg
World Championships Budapest
1984 –  Los Angeles Olympics – My Third and dream goal.
1985 –  Overall British Champion
1st  Beam
2nd Bars
3rd Floor
European Championships- Helsinki
World Championships- Montreal
1986 – Retired from Competitive Gymnastics after Champions Cup where I finished 2nd but whilst still British Champion.
A fabulous 13 year career in a wonderful support with the help of some amazing people.
My parents ability to see my talent and their sacrifices. John Atkinson's forward thinking, vision for British Gymnastics. Hazel Palmer's belief in me as a young gymnast and willingness to Improve her knowledge. John Reeves total dedication to the sport and creating the champion in me.
CLICK IMAGES TO VIEW FULL SIZE
© GymnasticsHistory.co.uk 2023  |  Est. 2018