JEFF DAVIS
by Meg Warren & Lynn Davis

Jeff Davis was born on March 31st, 1954. He went to Tudor Grammar School Feltham Middlesex and joined the school gym club aged 12. He had a head start as he had previously learnt a handspring in the back garden aided by his older brother. Here, his PE teacher, the late Ieuan Parry, coached him in the fundamentals of gymnastics. Ieuan was instrumental in building not only a school team but Jeff into an English Schools Champion. He was the English Schools champion in 1968, with the rest of the London team taking the following three places, with juniors Tommy Wilson, Alan Chandra, Dave Urquhart, and G. Waters coming in sixth.
Ieuan Parry, unmistakably Welsh, was a pioneer and a talented coach. The appearance of Tudor's talented and well-disciplined boys at the ESGA championships in Crystal Place was memorable. Later Ieuan helped to pioneer Sports Acro in the UK and was largely responsible for Jeff's tumbling and floor skills. Later in 1974, Jeff represented Great Britain at the first World Tumbling Championships in Moscow.
Jeff always maintained his link with Ieaun; he often went back to see him and his friends at Sportac 76, the acro club that Ieaun founded. He sometimes helped out with the "Acroprats", the sports acrobats who put together a comedy act featuring balances, tumbling, lots of comedy falls and some mad costumes. This training would help Jeff in later years perform his own comedy routines and become a stunt man!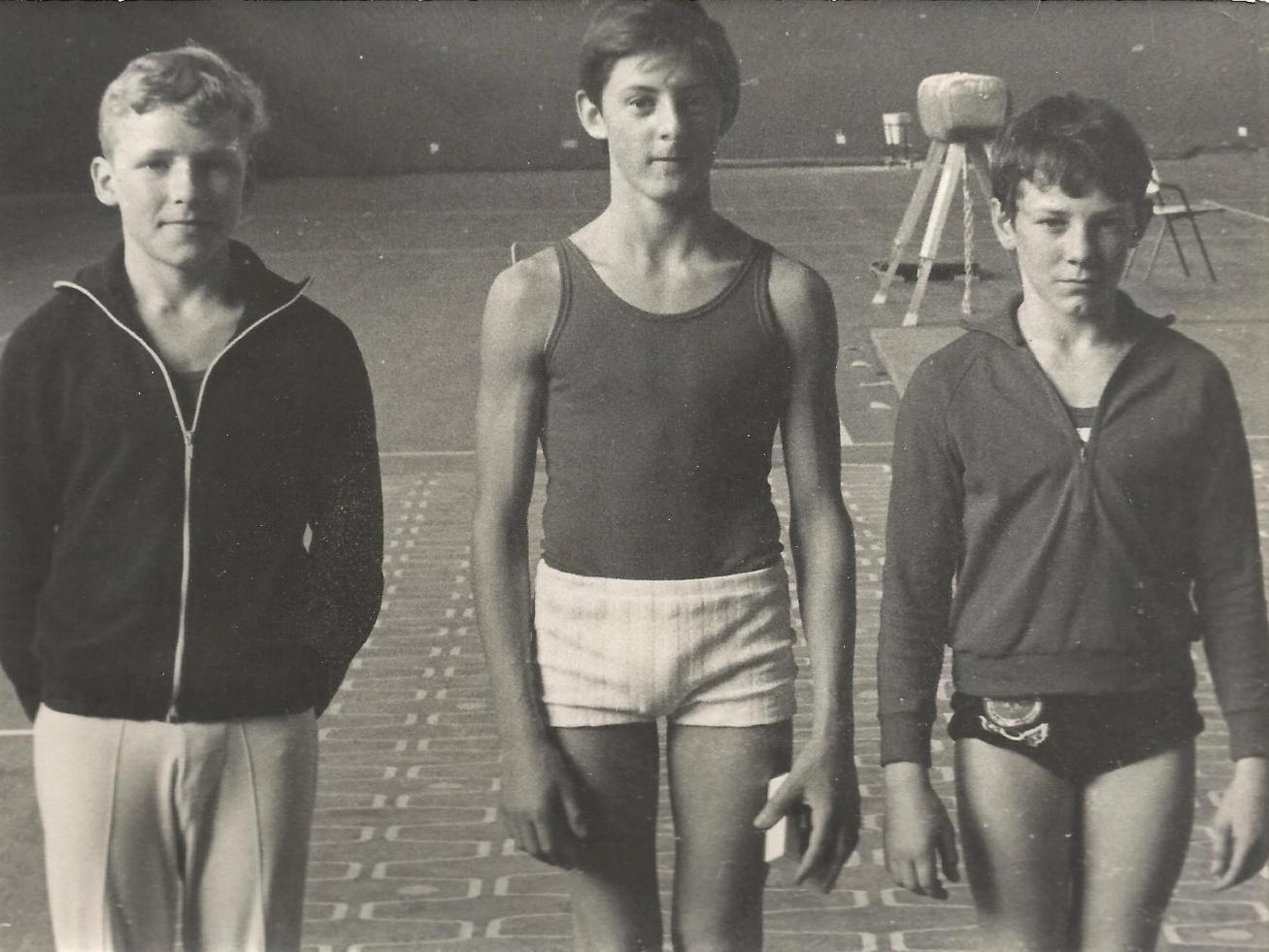 Above – Jeff (right) with Bob Stroud (left) and Dave Urquhart when he was 2nd in the Vaulting & Floor work championships at Crystal Palace and 2nd in the tumbling to Dave Urquhart. Memorable names are recorded alongside Jeff on that day in August 1968, Ian Neale Alan Chandra and Tommy Wilson.  
CLICK IMAGES TO VIEW FULL SIZE
College
 In 1972 when he was 18, he went to Carnegie College in Leeds to take his B. Ed Degree and qualify as a teacher. He was training under Dick Gradley at the Leeds Athletic Institute. During this time, he became a full-time member of the National team.
He represented GB in international team competitions and as an individual in invitational competitions, competing in the USSR nine times.
In 1975, he was the first Brit to win gold and bronze medals in an invitational competition in Bulgaria; behind what was then the "Iron Curtain". He then represented GB in the first American Cup competition at Madison Square Gardens in 1976.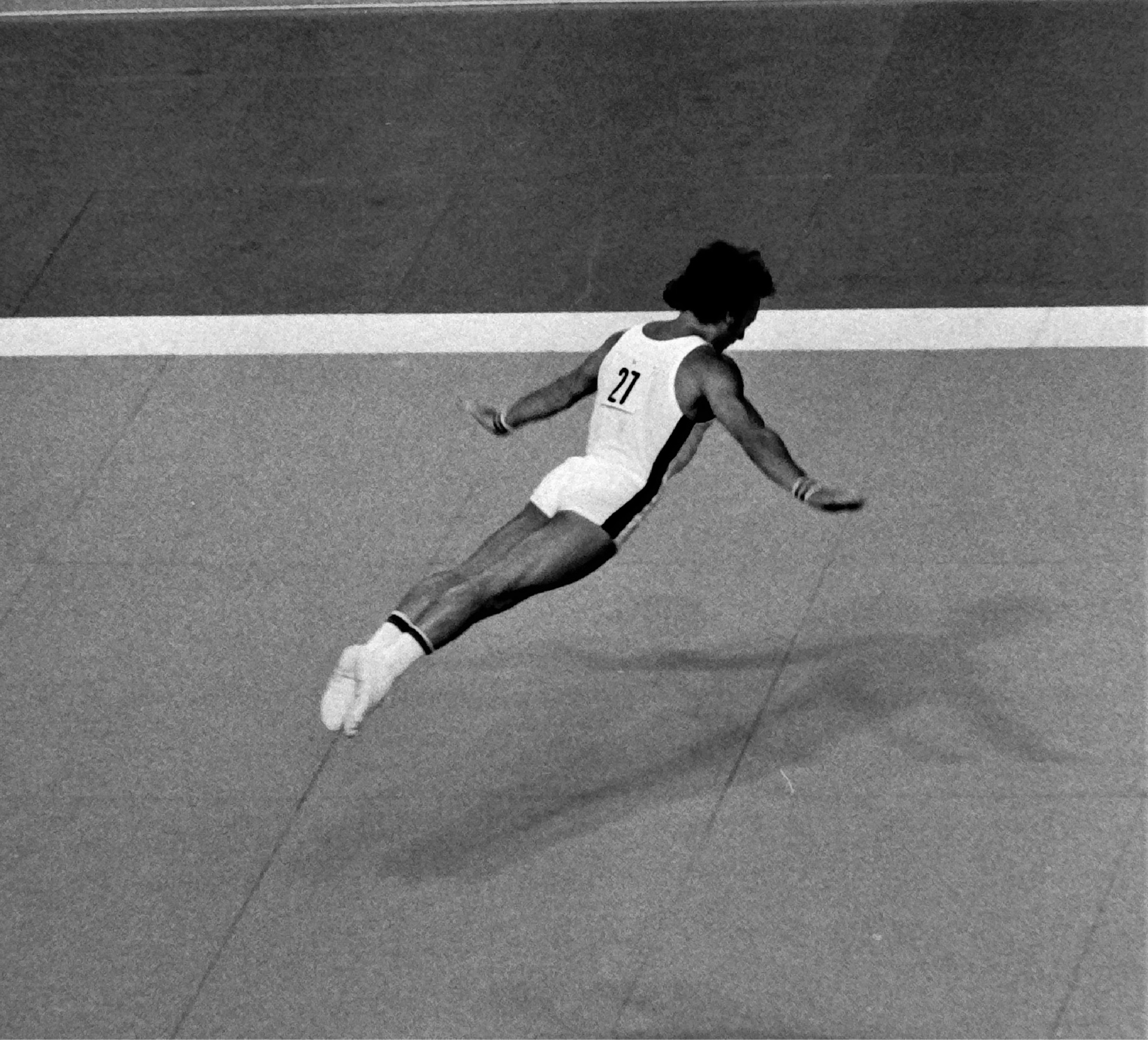 Above – Jeff Davis competing on Florr at the 1976 Olympics in Montreal – Photo Jim Prestidge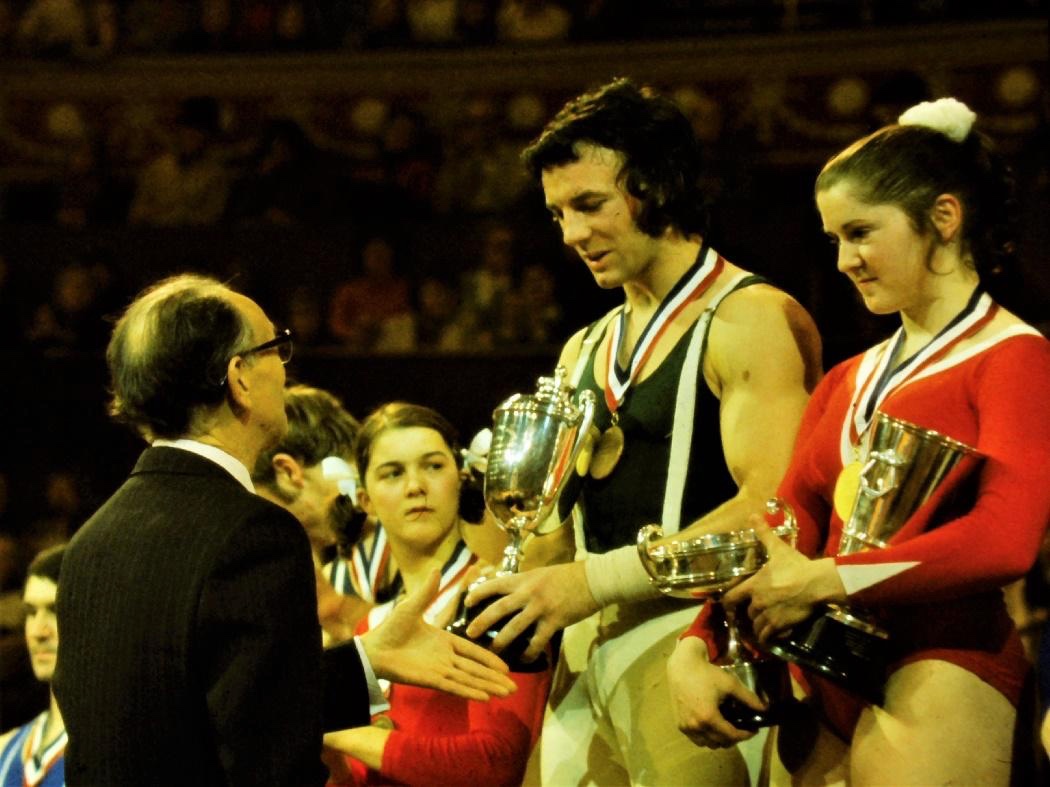 Above – Jeff with Avril Lennox Champions Cup 1976 – Photo Alan Burrows
1976 Montreal Olympics
In 1976, Jeff, alongside Tommy Wilson and Ian Neale – two of those young schoolboys from the Crystal Palace days – represented Great Britain at the Montreal Olympics.
Jeff Davis recalls
"As this Olympics, following the dreadful events of 1972, that the security was ridiculous. It was also at the time in Canadian history when Quebec was trying to break free from the rest of Canada, so any speaking of English outside the village was not well accepted. Having said that Jeff recalls that the village was great and so were the competitions.
Jeff recalls one particular gymnast who make a mark; Nadia Comaneci.
"I was standing by bars when Nadia got her first 10. To me this was the significant end of the Turischeva/Korbut era."
Lynn O'Keefe, now Jeff's wife recalls
"In May 1977, Jeff participated in the European Championships in Vilnius, Lithuania. He was determined to qualify for the floor final and hopefully medal! Unfortunately, he took off on his first tumble, which should have been a full-in back-out, but suffered a total Achilles tendon rupture. He was taken to a local hospital, but being in the Soviet Union, he could not get a visa to stay for treatment!

He flew home and had an operation and a thigh-length plaster cast. He began his first full-time teaching job that September and started training again. He was now training at Bush Harlow Gymnastics with Mitch Fenner. That December, Jeff competed in the British Voluntaries Championship (the Winter Cup) and won! Mitch was so nervous (pacing about and touching his glasses) about his floor routine he could not watch!

Jeff later had an operation to repair his other Achilles tendon, but this did not stop him from becoming the British floor champion for nine consecutive years!"
Full-time training
Jeff left teaching in 1978 to concentrate on his training. This was a difficult decision as there was no high-performance funding. Any money Jeff made through appearances or endorsements had to go to the BAGA, who would check it and re-channel it as "training expenses". He was allowed to keep the money from appearing in pop videos, and this began his slow drift to toward entertainment!
In 1979 Jeff and Lynn got married, and so had a wife to support him in his passion for gymnastics.
Mitch Fenner, the head coach at Harlow, transformed Jeff's pommels to help him become All-Around British Champion in 1979 and 1980. He won the Champions Cup again in 1980.
He must have been disappointed not to represent his country at the 1980 Olympics. Jeff and Barry Winch, Jeff's training partner, were the favourites to make the team, but come the trial, a young Keith Langley took a team place along with Barry & Tommy Wilson.
Jeff decided to retire in 1982 as it was time to earn a living. So he began coaching at Bush Harlow and training for the stunt register.
Gymnastic achievements
Olympic team member (Montreal) 1976
World Championships team member 1977, 79, 81
European Championships team member 1973, 75,77,79,81
Commonwealth Games silver team 1978, 1982
There was no individual medals in the Commonwealth Games at this time
British champion on individual apparatus – floor (9 titles), vault, rings, parallel bars and high bar, but he never won pommels
British Team Champion member in 1976 with Camden Turners and 1982 with Bush Harlow
Awards and honours
Honorary Life Member of British Gymnastics
FIG World Class and Master Gymnast
British Gymnastics Master Coach and Master Judge
Entered into the Men's London Open Hall of Fame in 2010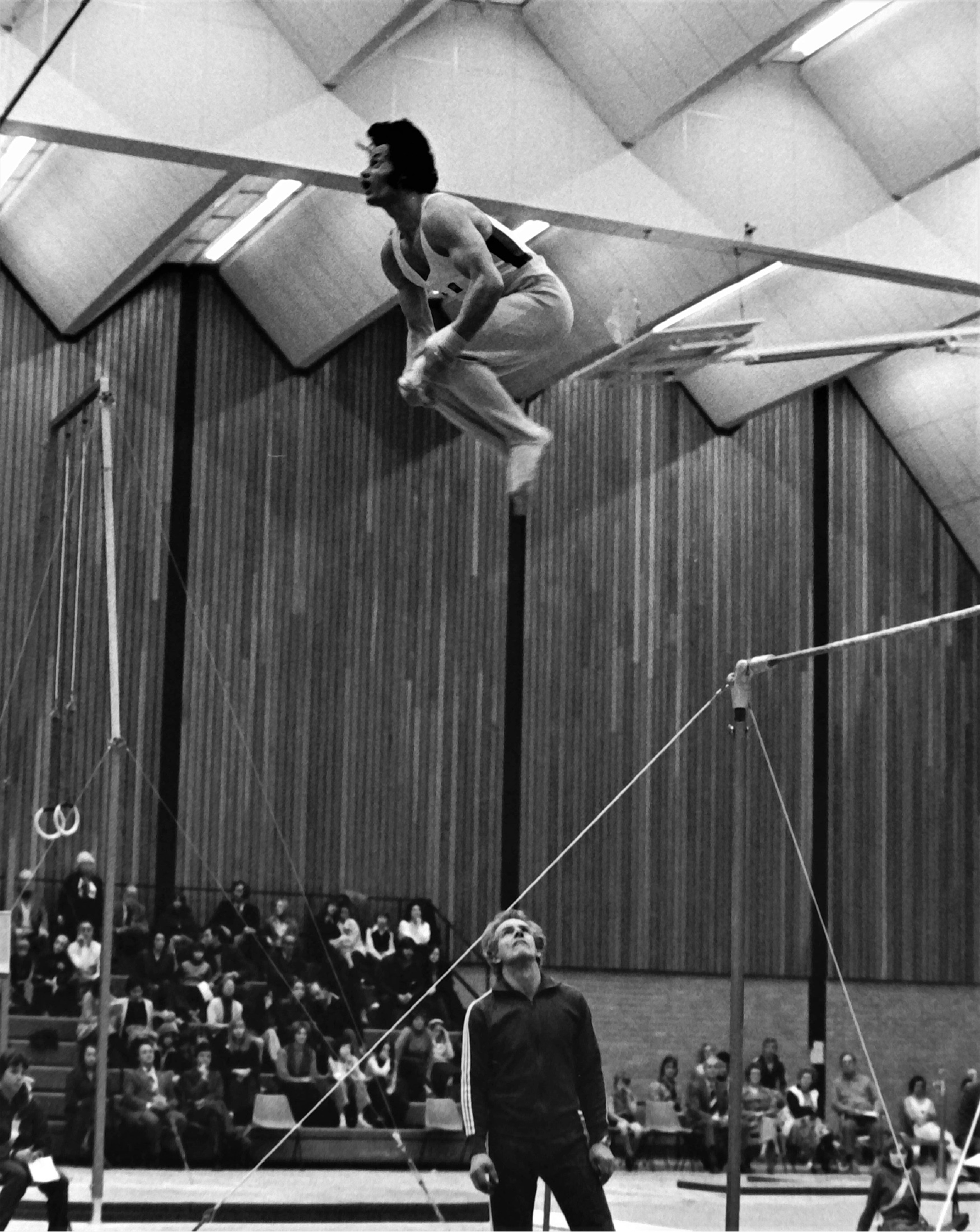 Above – Jeff in 1976, Great Britain v France at Bognor Regis. Nik Stuart, national coach, watches his double back dismount.
Life after gymnastics
When Jeff retired from gymnastics in 1982, he tried to find ways of making a full time living using the gymnastic skills and experiences he had built up over many years. He continued to be involved with gymnastics through his judging, coaching at Bush Harlow and coach education.
He continues to help gymnasts with their skills to improve their gymnastics, become coaches, and circus performers or move into the entertainment business.
Stunt Man Jeff
Amongst all of this he got involved in some form of entertainment (usually involving prat falls and camp costumes). He then started off working in pop videos and then decided to train for the stunt register. Jeff trained with his usual gusto – learned to ride a horse, use a sword and gained a black belt in karate. He also needed an Equity card for dramatic performances. So, he worked in various theatres with opera companies. This did not involve singing but doubling characters; quite often, he was a dead body, he had to pretend to fall out of a theatre box and hang on one-handed (much to the alarm of the audience seated below)!
All of this took him into the world of film, television, opera and pop videos and commercials. The list is extensive.
He then became involved with Circus Space in London, coaching tumbling, trapeze and acrobatic skills. In 1999, he was a coach/consultant to the Millennium Dome Show Company.
In 2014 – 15, he worked with FEDEC, the European circus federation, running training courses and producing a training manual.
Jeff most notable TV and film work
London's burning: 8 series and 40+ episodes, stunts included frequent full-body fire, jumping off the explosion of Woolwich ferry into the Thames, jumping from burning buildings, jumping off a 60+ foot crane and landing on a car; plus a lot of gruesome burns make up!
Shameless: 94 episodes between 2004-2013: lots of whole pub brawls, fighting, street fights – pretty much everything you could imagine and a lot of stuff you couldn't imagine!!
Hornblower III: coordinating fights on board ship and training West Country students into an 18th century fighting French army.
Jeff continues being involved with his first passion, gymnastics, even though he officially retired from South Essex Gym Club in 2021. Who knows what his involvement in the stunt world is now as its something that he doesn't brag about; he's a talented and modest man for sure. 
Jeff's story was compiled by Meg Warren, aided by Lynn Davis
Published April 2023
CLICK IMAGES TO VIEW FULL SIZE
© GymnasticsHistory.co.uk 2023  |  Est. 2018