I was born at the Aldershot barracks on June 3rd 1961 following my mum and dad meeting at Lilleshall. Dad was on an Army training camp and my mother; a Danish au pair was learning English at the Sports Centre.
Geoff Langley, henceforth known as Dad, was a keen gymnast in the Army PT Corps along with Nik Stuart and Dick Gradley, so from family photos the first 4 years of life were spent crawling in gyms, first in Aldershot, then Celle in Germany, until Dad left the Army in 1967. Chalk dust, as it were, was in the blood from a very early age.
Early days
The family moved to Coventry in 1967, with Dad taking up a position as a Physical Instructor for the Police in the Ryton centre. That was the first time that Dad made contact with John Atkinson (Akko) at the Ullathorne School, Coventry. Dad rekindled his gym career competing in the British Championships. I meantime had discovered football which absorbed my spare time.
As it turned out, I had a friend whose father owned the garage around the corner. One day after cooking potatoes in the woods nearby, I returned home to a very angry dad. Apparently, the cinema used by the police for entertainment had burned down. It was arson – and as irony would have it – the caretaker of the cinema, was a convicted arsonist. However, the police it seemed preferred to blame a 7-year-old and his pal until this discovery. We moved away from the woods and closer to Coventry two years later.
In moving, I started to go along with Dad a couple of times a week to the Ullathorne gym on the back of his 50cc Honda. I was still an ordinary kid trying to handspring from hands to feet, with bottom being the inconvenient landing pad. Anthony (Tony) Brooks, a member of the GB 1978 World Championships team was one of Akko's boys, as well as Ian Neale – Ian of course became British Champion in 1978. I stopped going to the gym after a few months. Why? Crash helmets for passengers became compulsory that year, and we only had one. Dad carried on training.
An important step

The important step happened by accident in 1972. I had moved to secondary school in Ernesford Grange, Coventry. It was a new school and only half built when we started in the first year. There was no formal gym in the temporary accommodation but basketball and gym were offered as an evening activity in a secondary school close by. I recollect mentioning to one of the teachers, being a proud son, that Dad had just come 10th in the British Gymnastics Championships. The teacher said, ask your dad if he wants to take a class. I did, and Dad started a few weeks later. I think I attended one class – but preferred basketball, football and cross country running. One cross country event was held at Ullathorne – I remember passing through the gym, seeing Dad talking to Akko at the training session. It was my one and only competitive cross-country run.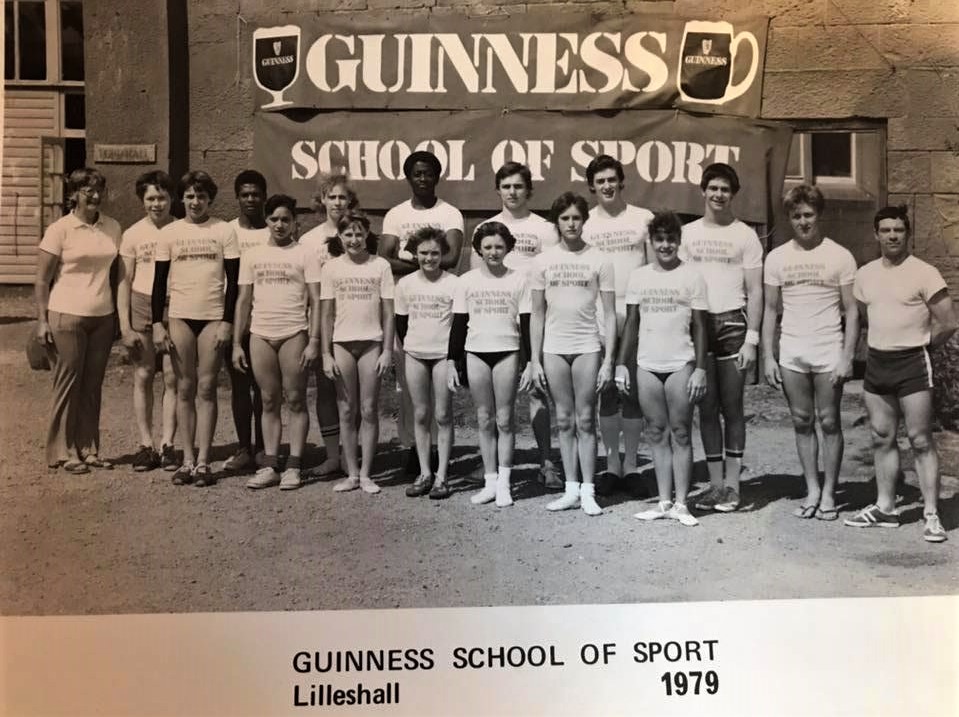 Above – The Guiness School of Sport in 1979 with Keith at centre back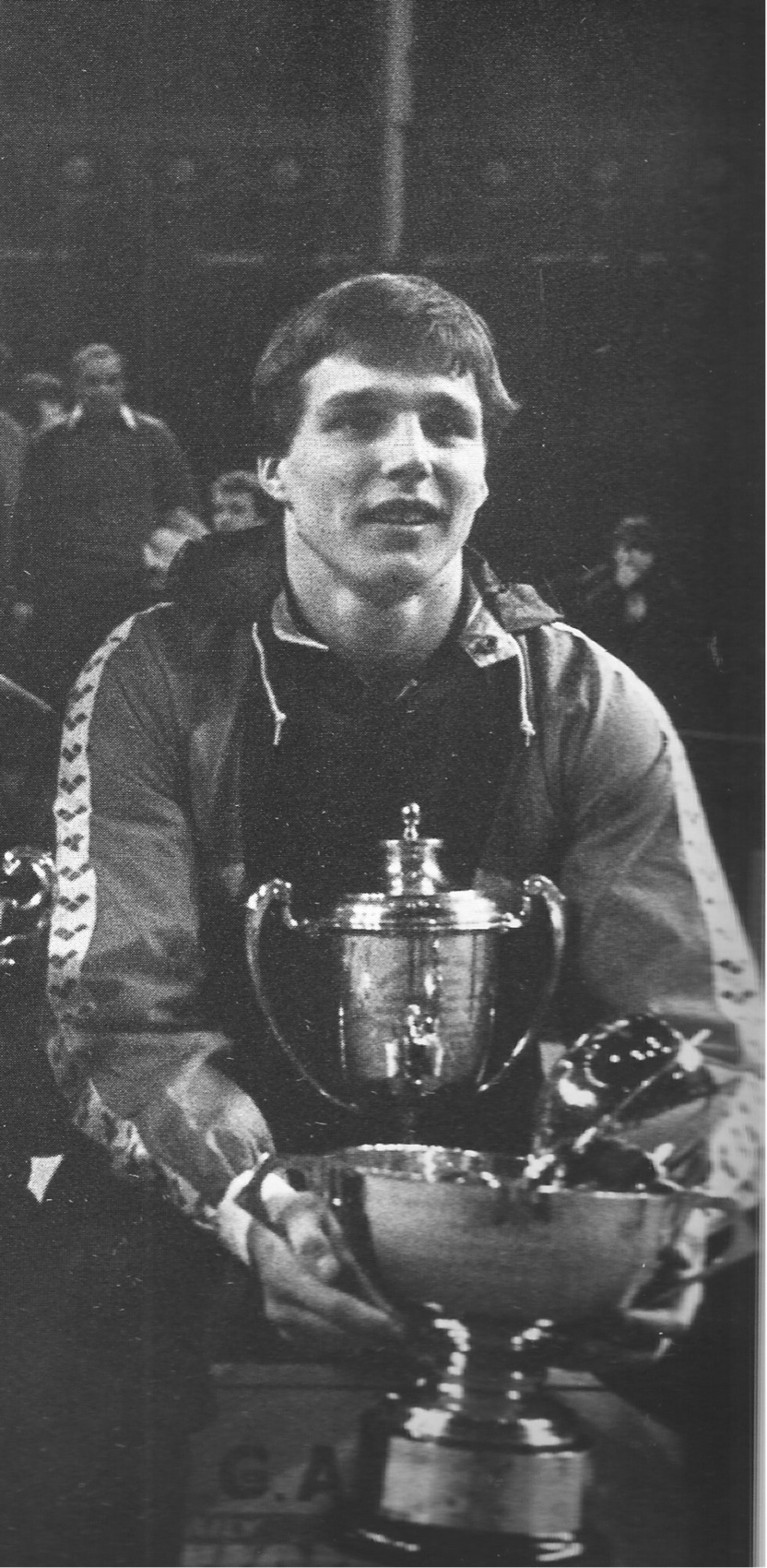 Above – Keith won the British Champs in 1981, he's seen here after his win at the Champions Cup
Akko becomes a Junior National Coach
Dad, however, enjoyed the teaching experience. He took evening classes to sit Maths and English "O"-levels and then an "A"-level in Biology. Dad applied to the Canley Teacher Training College. He got a place by 1973 and started as a mature student. At this time, Ian Neale was also a student at the same college. John Atkinson by this time had left Ullathorne to become National Coach for Junior Gymnasts. The Coventry Gymnastics Club was born. I however was a footballer. I had just had a trial for Coventry City boys, but I was a bit small for a footballer, and too tall for a gymnast as most people thought at the time.
One Sunday afternoon my mother was going to join Dad in the Canley Gym. I don't remember why. She didn't go often. I was doing my French Homework. She said come along, I moaned a bit as all 13-year-olds do, but went along. I must have enjoyed the experience because I carried on going, but could still only land on my bottom doing a handspring. Perhaps the difference was starting to do some apparatus and having a smaller group of other gymnasts my age who had also moved from Ullathorne now to be coached by Dad. There were only a few in the gym but of course I was very lucky to have Ian Neale as a role model and Anthony (Tony) Brooks who became my training partner for the next 5 years.
From this point, things moved quickly. I had given up football probably because I realized I was too small. Gymnastics became the focus. Handspring to feet. The first flick flack, and the first upstart on high bar. Akko remained unconvinced. I recollect Dad driving Akko home from the gym one day and their conversation moved onto athletics. "Keith is a finer runner," said Dad. Akko replied that some people should stick to what they are good at. I registered an "irritation".
Akko was still the coach of Ian Neale, and appeared in the gym from time to time. This was lucky. A vacancy came up for an English Schools Training Camp at Lilleshall in 1975 and Akko asked me to make up the numbers for the week. I went along with Tony Brooks. It was a good week and probably the start of being a serious gymnast. I competed in the Daily Mirror Russian Scholarship in 1976: falling off virtually every piece of apparatus. Dad wasn't impressed, as coach but it was OK, because by this time I had tagged onto Ian Neale and Tony. You learn a lot with the British Champion at the other end of your gym.
Becoming an international gymnast

An English school's gymnast, turned into an English Schools International by 1978. The Coventry Gymnastic Club was flourishing being run by Dad with Mum the book keeper. I was always difficult to coach and rarely did what I was told – which had plusses and minuses. Dad, however, had given up being my formal coach. I noted that there was a twisting belt by the rings in the Coventry Sports Centre. Dad was always there on a Sunday morning so I turned up with the view to using it to learn a half in half out double back dismount. I knew what to do, because Tony had shown me the breakdown in the showers after training, and so the spatial skills were set. I got the broad idea of what to do the first time around, and tried it in the gym at Canley the following week. As it happened, Akko turned up that week, and when it was announced that Keith was going to do a half in half out from the rings, a few faces laughed, other turned away and hid their eyes, while I landed on my feet. So as a 17-year-old, I could do a trick that the British Champion couldn't do. There was a fair amount of jealousy as you can imagine.
After a break, I came back into training for a week to enter the West Midlands Men's Competition; much to everyone's surprise I won. The Men's Gymnastics Team had just competed in Strasbourg for the 1978 World Championships. Ian Neale retired after this event and I got a phone call the following Tuesday from Nik Stuart asking me if I wanted to go to Gran Canaria. The trip was intended as a holiday for the national team. That trip was the first time I met Barry Winch and Tommy Wilson. I had a great time. As it turned out, my rings dismount led to the leather straps snapping before the competition. One of the younger gymnasts, Martin Ellis was quite relieved: He had put Ralgex on an injury, covered it with bandages leading to third degree burns for his efforts. The rings were repaired nonetheless, and with the adrenaline, I managed to complete my first every handspring front to feet on vault. I was awarded 9.4. I'd never made the nines before and ended up with 52.02 and third place in the British Team. Returning to the UK I had to stop off at the Coventry Sports Centre where Dad was coaching. As it happened, Akko was also there. He asked how I did. His face was a picture – and that was the start of my international career in gymnastics.
Russian scholarship

Now Akko was about to take over as National Men's Coach with the retirement of Nik Stuart and so he started giving me a lot of help. I was still what Dad referred to as "un-coachable" but John made an interesting decision at the time: He suggested I model my voluntary routines around the World Set exercises – so for once I listened and obliged. It was a masterstroke of an idea. In 1979, I had 'A'-levels to complete, won the Daily Mirror Scholarship for a month of training in Russia in the middle of them, and came back with biceps and a sort of tkatchev that hurt my feet when they clattered on the high bar.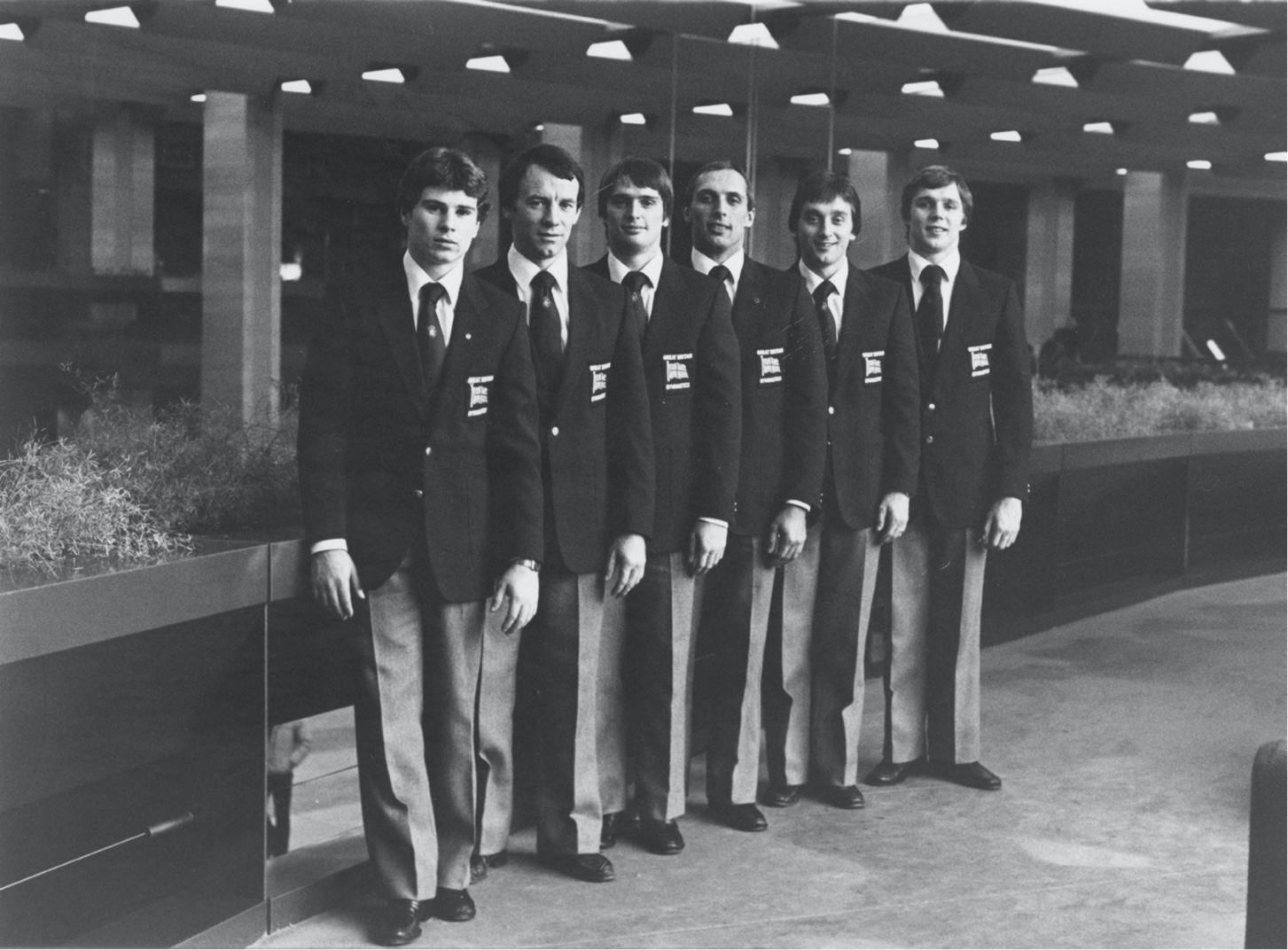 Above – Keith with 1981 World Championships team. L – R. Andrew Morris, Jeff Davis Martin Davies Eddie Van Hoof Tommy Wilson and Keith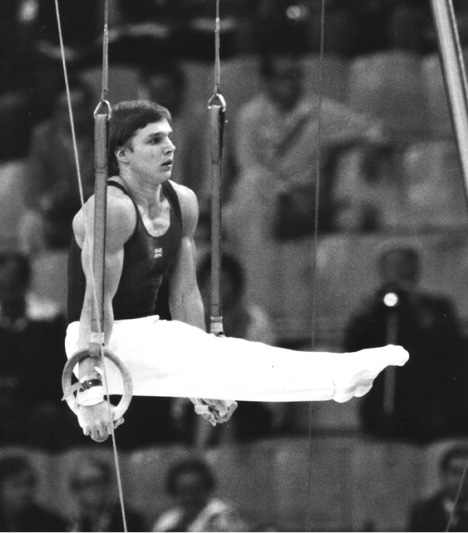 Above – Keith competing on the Rings
Moscow Olympics and World Championships
But that trip allowed me to slot into the Olympic set exercises very easily, while branching out into my own voluntary routines, which I have to say were largely modeled on Ian Neale's final voluntary routines. I just made it into the World Championships team in 1979.
As Men's National Coach, Akko had also decided that the Men's Team was just not hard enough. So, he ordained a do or die one off trial at Bangor University for the 1980 Olympics. Barry Winch came first, and I came second. My dad took me around the competition as coach. By this time Dad had figured out how to handle me, he simply followed me around picking up handguards. I was always losing them or leaving them in changing rooms or on the floor. The GB representation was supposed to have been Jeff Davis and Barry Winch. During the trial, I had performed a new pommel horse routine that I had successfully failed at every attempt for 6 months before that competition. The first time I went through was at the Olympic trial. Akko was stunned with the result – he must have thought "What have I done". I know this, because Akko announced to all participants, at the end of the competition that any gymnast who was found to have forgotten handguards or any item of necessary gym clothing would be temporarily suspended from international competition. It was at this point, that Billy Wills, then coach of Barry Winch, and Tommy Wilson, handed me my handguards that I had of course left by the high bar.
I got my FIG pin in the Moscow Olympics in 1980. I was also due to start University in Birmingham but I really didn't like the course nor the training set up, so I returned to the Coventry Gym in the November. I was not especially fit, and by this time massively over confident. So much so, that when I was winding up for my high bar dismount, I recollect thinking that I would go for the half in half out instead of the double back dismount on high bar to celebrate my victory. My reward was the taste of a crashmat and second place: Jeff Davis came first and had some compensation for missing out on the Olympics earlier that year. I learned some long overdue humility.
The following year, Akko put me up in Lilleshall for pretty much the whole of the long student summer vacation. I suppose that was the start of gymnasts living full time at the centre. Andrew Morris who was by this time also emerging as a star gymnast kept me company. I won the British Championships later that year, and my leotard is hopefully still behind the bar in the display area at Lilleshall as a memory – along with a signed England shirt from the 1966 World Cup Winners.
Anyways, I owe a big thank you to Dad, Akko, Ian Neale and Tony Brooks and of course, the BAGA.
I have spent 27 years as a lecturer at University College London. but I'm semi-retired now and will probably fully retire… Academia is very similar to sport with the people involved very competitive… and to be honest I've had enough of competition
Keith Langley
September 2022
CLICK IMAGES TO VIEW FULL SIZE
© GymnasticsHistory.co.uk 2023  |  Est. 2018