MARVIN CAMPBELL
In his own words
I started gymnastics at the age of 7 with Colin Leigh's gymnastics club Central Manchester Institute of Gymnastics (then called North Manchester Gymnastics Club) located at the Moston Brook High School in Moston. I was referred from my primary school lunchtime gymnastics class as being someone with potential. One of my original reasons to do gymnastics in the lunchtime was because back in the 70's when health and safety was non existent, every child had to go out to the playground at playtimes so this was my way to stay inside in the warm. Gymnastics meant an inside, warm, dry, easy cop-out activity instead of being outside freezing to death or getting soaked through to the skin.
In my opinion until about the age of 11 I wasn't any good. I hated conditioning, would forget my floor exercise, range and conditioning and P-Bars routines regularly. Colin would also tell me on many occasion I'd stop suddenly, go completely vacant in my gaze, then turn to a judge or teammate and ask 'What move is next, I've forgotten my routine?'. Even at the NDP's at Lilleshall competing for the NW Region aged about 11 I would score 8.4 – 8.6 for a top flight routine only for a judge to come over to the bench and say 'you know you didn't do a bridge, or you seem to have forgotten your chest roll press'. So instead of being judged out of 10 it was judged out of 9.
My Achievements:
During my competitive time I won club, regional, English and British Championships in 1993 and then the British again in 1995. I also won Silver and Bronze placings in these championships on individual apparatus.
I also came 2nd at the Thames Television Junior Gymnast of The Year at Wembley in 1988 I think it was. For me the big deal about that competition was the FREE hotel and the goodie bag.
I think my primary talent wasn't my gymnastics ability, technique, or conditioning, it was more that I hated losing, so I trained hard so as not be in my mind a 'Loser'.
Colin Leigh was always the Head Coach at CMIG but coaches who I would also give credit to for coaching me at North Manchester in the early days were Mr Ray Blakeborough, Mr John Edwards, Mr Campion, Mr Innes. These are the names I remember and groups I remember being in.
Colin Leigh moved the club to the old Gorton Baths in Gorton / Belle Vue in Manchester in 1984 so then establishing a permanently set up gym with foam pits.
Throughout my time competing in gymnastics I sustained several major injuries:
2 Ruptured Achilles Tendons (both snapped in the warm up period of competitions
Torn knee cartilage
Dislocated Collar-Bone
Cracked Vertebrae in my neck from landing on my head in the foam-pit
As some of you may remember I was known for having quite large latissimus muscles with one looking larger than the other. This was because I suffered all the way through my competitive career with a double scoliosis of the spine (Twisted Spine) so I actually had to compensate a lot for that. I had to concentrate a lot of standing up straight or I would naturally lean to one side. Not many people know or knew of that, they probably just thought I had bad posture which was only partly correct. I was advised to stop gymnastics when I was about 12-13yrs old or risk long term damage and I did refuse at that age to be placed in a body cast for up to 6months.
I competed all over the world for Great Britain at the highest of levels, 5 World Championships and the 92 Olympic Games.
The only major competition I didn't compete in was the Commonwealth Games in 1994 even though prior to that event I was the current North West, English and Senior Men's British Champion. I still to this day put that down to me moving training clubs from Central Manchester Institute of Gymnastics with Colin Leigh to Liverpool School of Physical Education with Vitali Lomtiev (R.I.P.) and Gary Kirby.
Colin and I came head to head over many years as I grew up and in 1993 I decided to either quit gymnastics completely or try another club. Trying another club didn't sit well with Colin and I feel he used his position as English Gymnastics Head Coach and one bad performance from me to block me being part of that 1994 team. That's all in the past now and life moves on. I think everyone would agree I was never an angel either in training or competition but that was and still to this day is my character which isn't such a bad thing.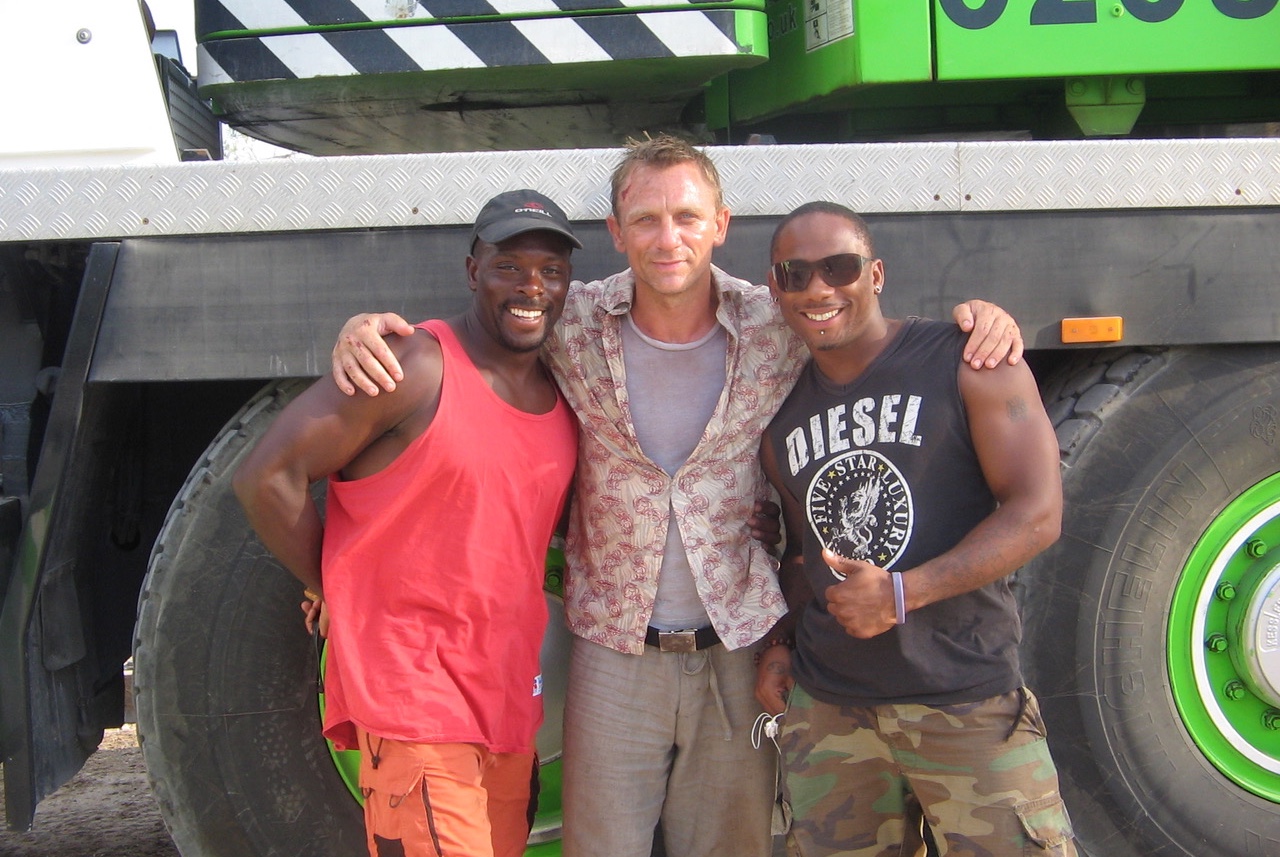 Marvin Campbell with Daniel Craig filming Casino Royale.
I was the first person to be awarded 3 Tarus World Stunt Awards (the Oscars of the stunt industry).
TWSA Nominations include: Casino Royale, Batman The Dark Knight, Inception and The Prince of Persia. Winning 3 of these 4 nominations makes me the only performer in the world to have won 3 Taurus Awards.
I officially retired in April 1996, after not securing a place for the 1996 Olympic Games. Throughout my career I had to sign on as unemployed to manage the long hours of training. Only through my initiative, was I able to survive the lack of funding. When I retired from gymnastics I turned to coaching as a natural progression but I felt there was a life outside of a gymnasium I was missing, so stepped away for a long time.
I got in to the entertainment side through film, TV, live shows and the West End from about 1999. This naturally pushed me over to stunt performance, and since 2002, that is primarily what I do.
I credit everything I've done post competitive gymnastics to my gymnastic training. I am teaching my daughter in a similar fashion about the qualities I gained from being a gymnast. Coming through the British Gymnastics' system at this time, where the likes of Barry Winch, Terry Bartlett, Andrew Morris, Neil Thomas, David Cox, Cathy Williams, Hayley Price, Sarah Mercer and myself were seemingly gymnastics household names, has shaped who I am today.
Please look at my website (www.marvincampbell.co.uk) for all the film titles and awards I have been part of.
© GymnasticsHistory.co.uk 2023  |  Est. 2018