What inspired you?
I'm not sure really. I swam for Huddersfield when I was 11 but there can't be many things more boring than swimming so I wanted to do something more interesting.
I had always liked to be upside down so when I was 11 my dad brought a little mat home and during the summer holidays, with his help, I learnt to do a round off back-flip. This was over 60 years ago when an 11 year old doing a back-flip was very unusual. Not like now. I was hooked.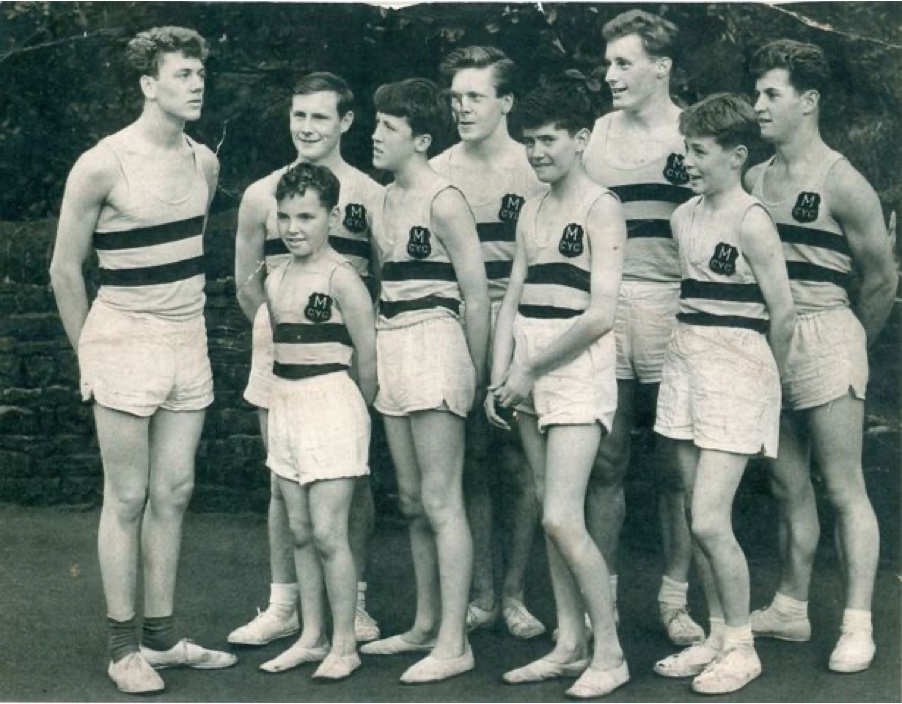 Above – Milnsbridge Civic Youth Club the CYC team in the late 1950s in the Crow Lane School yard. Mike front 2nd from right. Bill McLoughlin Brian Hayhurst and Melvin Parr back row.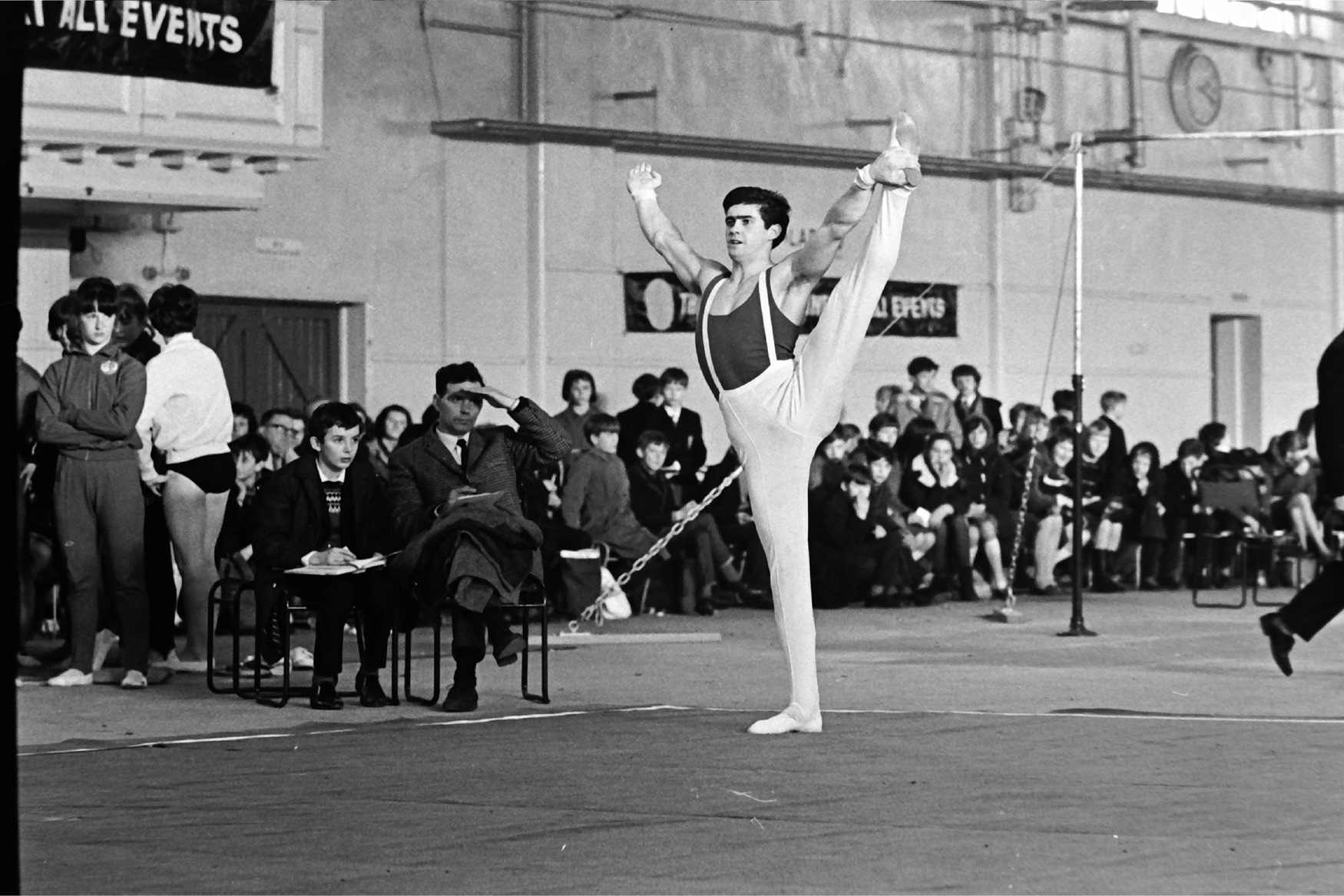 Above – Mike Booth competing at the British Gymnastics Championships prelims in 1965 at Granby Halls in Leicester – Photo Alan Burrows
CLICK IMAGES TO VIEW FULL SIZE
Who was your first coach?
My Dad, Stan. He was a part time sports coach at a local youth club and he and a group of lads started to concentrate on vaulting and agility. (this was the name applied to tumbling at the time) This later developed into six piece gymnastics with his team winning the Adams Shield in 1967 (the British Team Championships).
What was your first competition?
I entered lots of local vaulting and agility competitions for my school and for the youth club team from being 12. Most were held in halls with solid floors and inadequate mats. I had bruised feet after every event. This was a long time before sprung-floors.
One of my first 6 piece events was the first ever Junior British. It was held in Cheltenham in February 1963. I was 16 and I won it.
At what point did you know you could be good?
When my hero, Nik Stuart, handed me a book he had written and I opened it to see that he had written " To Mike Booth – Future British and………..Champion". – He was right about the British. I'm not sure what he had in mind for the second part!
What were your notable achievements in the sport?
First Junior British 6-Piece Champion. Men's British Champion in 1968. Competed at the  1968 Mexico Olympic Games. Participated in 38 Internationals, 3 World Championships Dortmund '66, Ljubljana '70 and Varna '74 and 3 European Championships – Warsaw '69, Madrid '71 and Grenoble '73.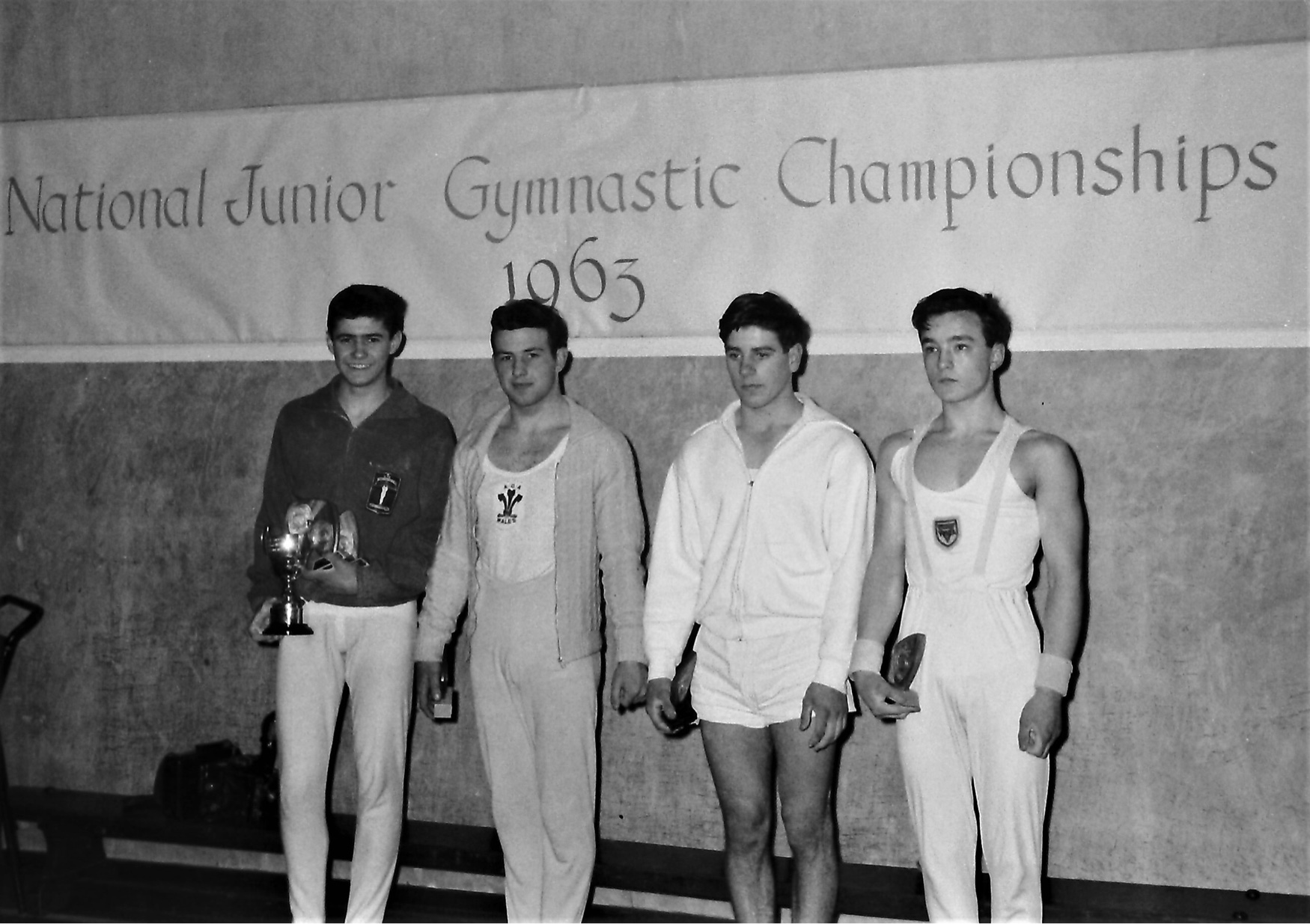 Above – Mike (left) winning the first Junior British Championship in 1963. David Lloyd, Picton Jones & Arthur Copp – Photo Jim Prestidge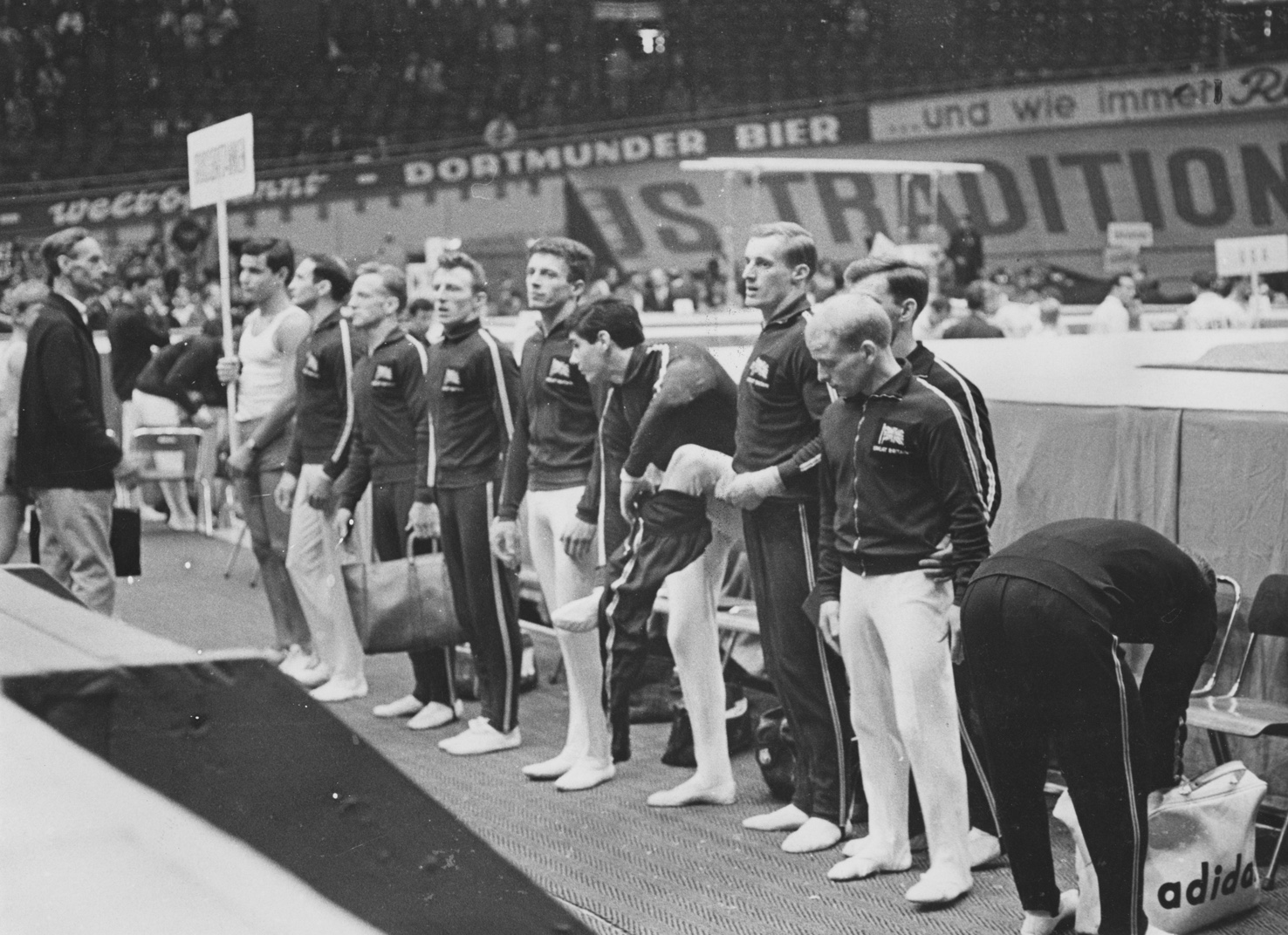 Above – Mike Booth with the GB Men's Team at the Dortmund World Championships in 1966 – Photo Alan Burrows
What was the best moment of your career?
There are two main ones – competing in the Mexico Olympics and winning the British Championships at the Albert Hall in 1968.
However, my most enjoyable event was the World Students Games in Tokyo in 1966. I was the only U.K. gymnast participating. I did not even have a coach there and had to ask foreign coaches to assist me.
I was there for three weeks. The Japanese team, who were gymnastic Gods, were very kind to me and looked after me wonderfully.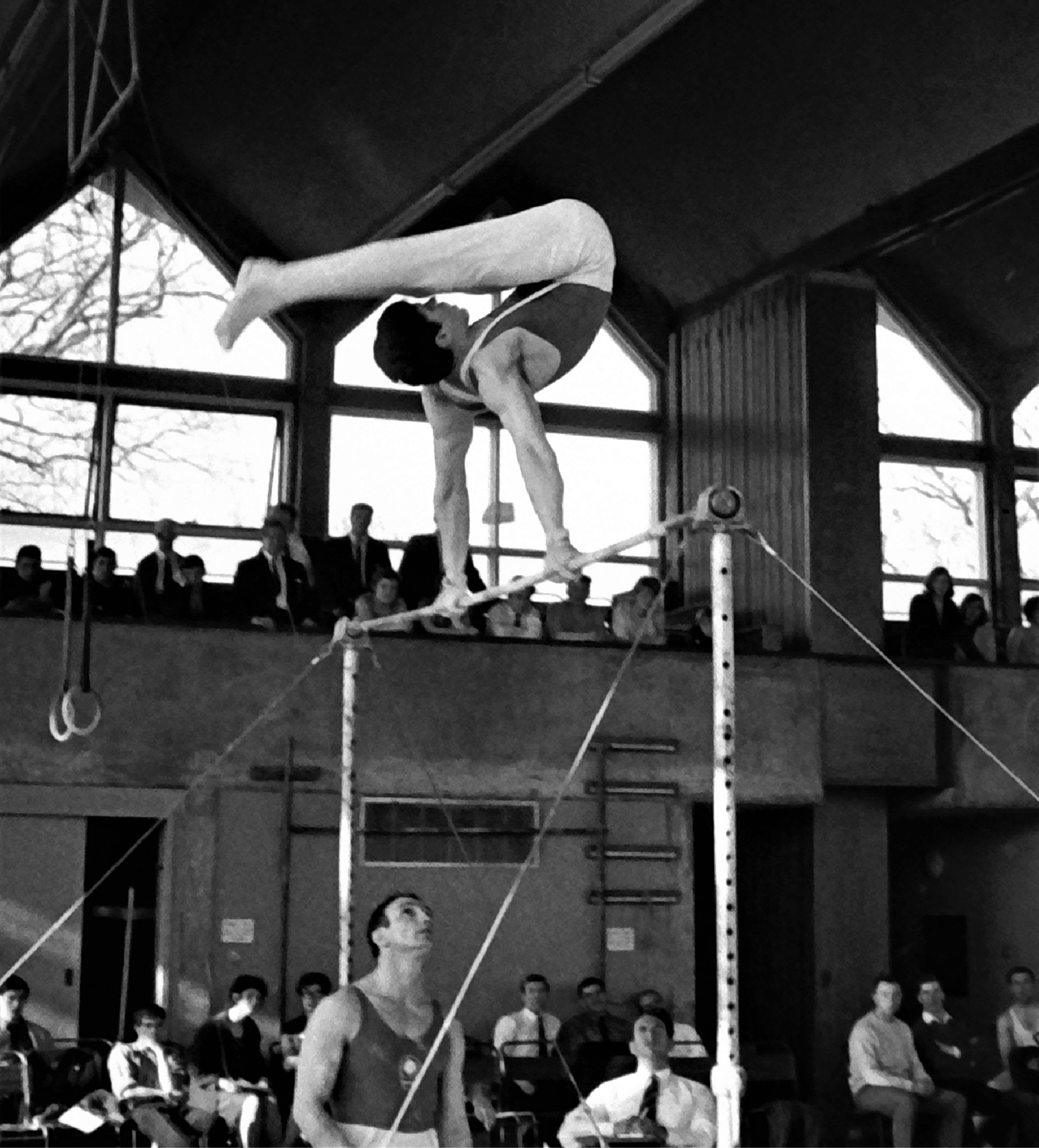 Above – Mike at the Adams Shield in 1966 with coach Dick Gradley Photo Jim Prestidge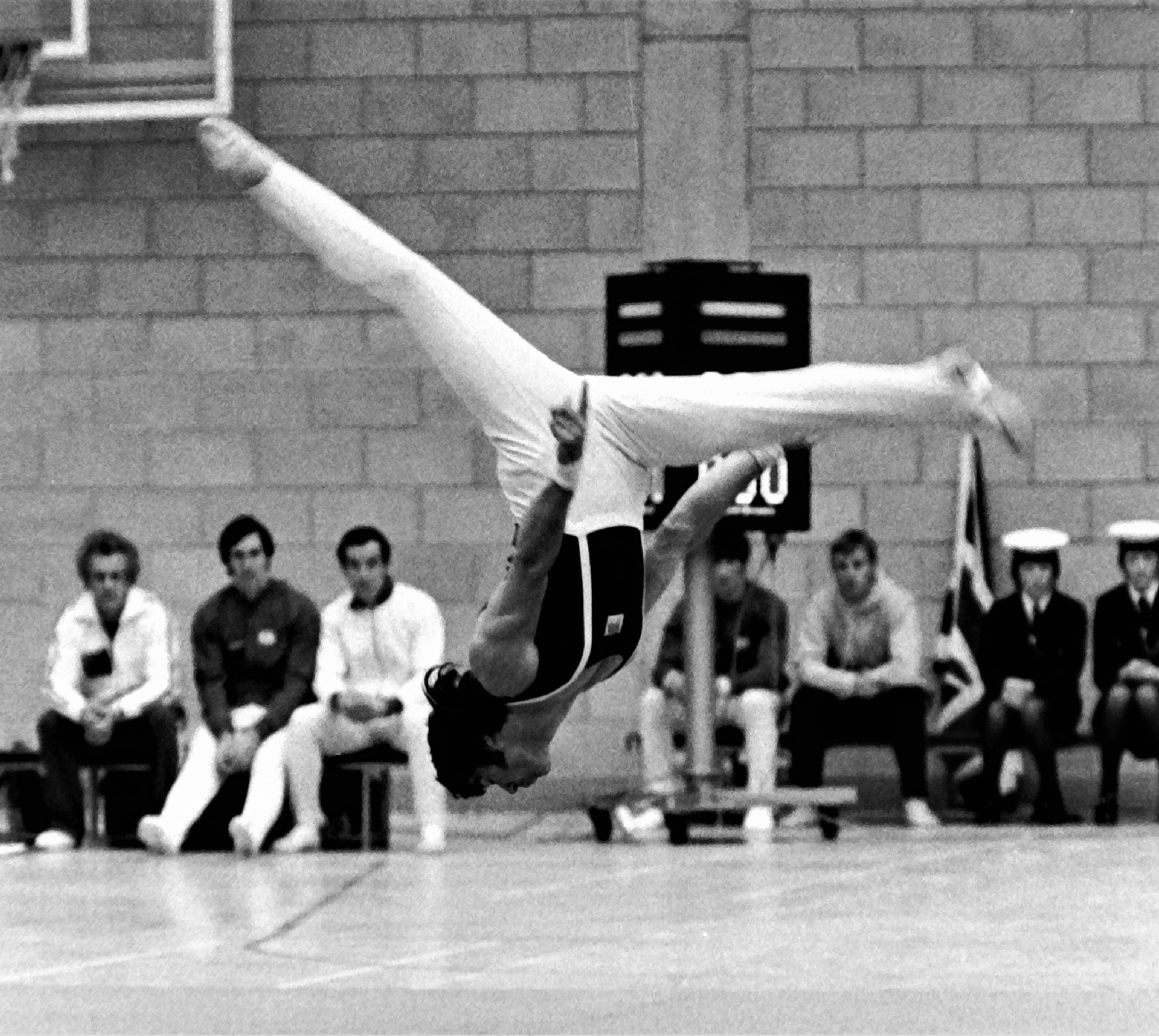 Above – Mike was one of the first, if not the first, to perform this new skill, the free walkover. GB V Holland 1974 – Photo Alan Burrows
Who are the people you have met who have influenced you?
The people who have influenced my gymnastics the most were (in no particular order) – my Dad, Nik Stuart, John Atkinson, George Whiteley, Dick Gradley. Brian Hayhurst (my training partner) and Bernie Cawthorne. Meeting and chatting with the Queen at a reception after the Mexico Olympics was also pretty good but the person I have met who has influenced me the most is a girl called Diane who I met when I was at Carnegie College in Leeds. We have been happily married for 53 years.  
How did you end your career?
When I was 29 I had achieved everything I was going to achieve in gymnastics. Also I had two young sons and a sportswear manufacturing business (GSL) that was taking off so it was inevitable that the time had come to retire from the sport that I had loved for so many years.
How has gymnastics impacted on your life today?
I am still friends with several training partners from the early days, several of whom are now in their 80's and I am still Chairman of Continental Sports Ltd, one of the World's few manufacturers of FIG approved equipment and a company started by my Dad, George Whiteley and Nik Stuart MBE and now run by my eldest son, Nick.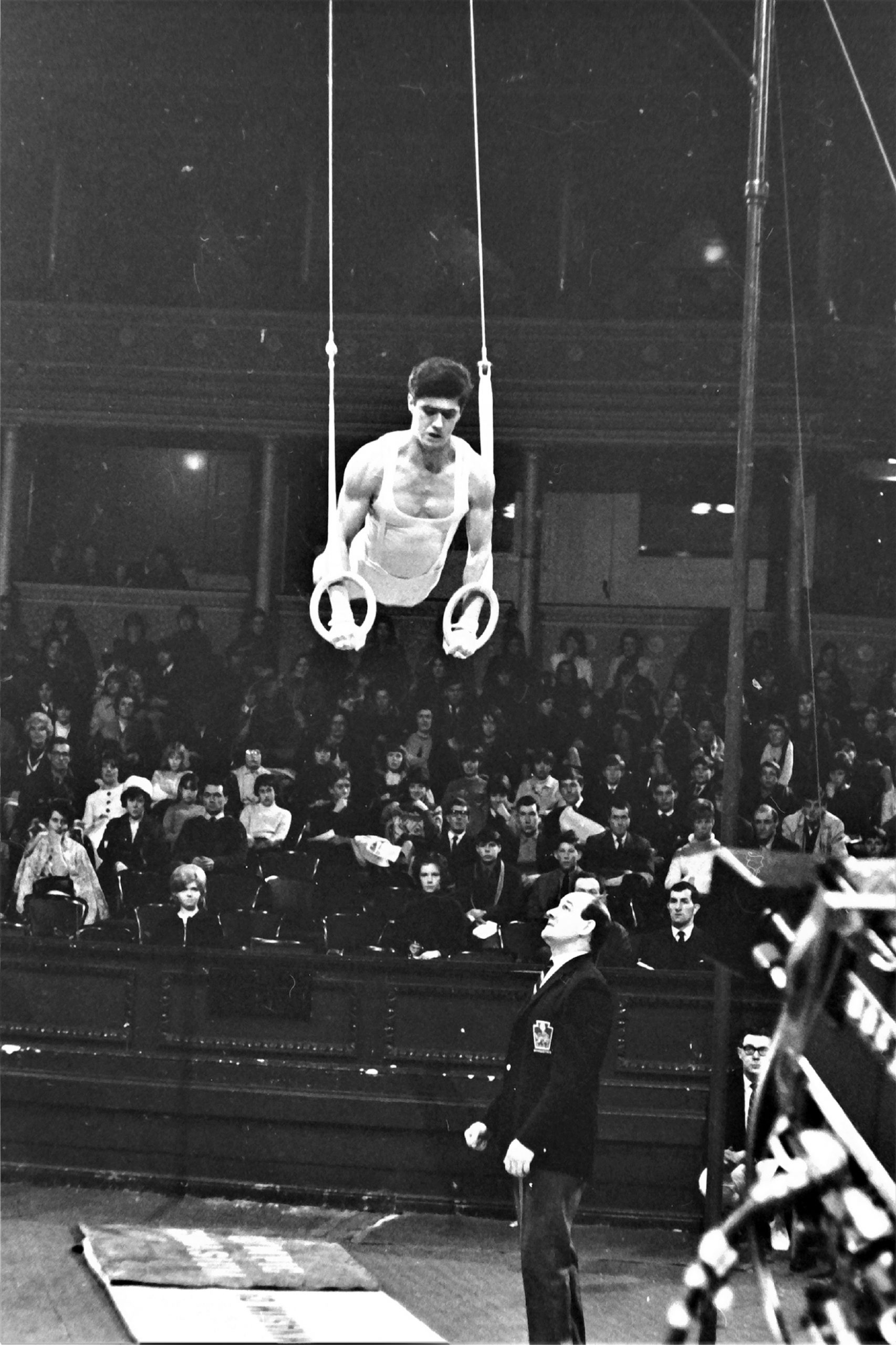 Above – Mike Booth competing on Rings at the British Gymnastics Championships in 1966 with dad and coach Stan Booth standing by – Photo Alan Burrows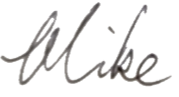 Mike Booth in conversation with Meg Warren
June 2022
CLICK IMAGES TO VIEW FULL SIZE
© GymnasticsHistory.co.uk 2023  |  Est. 2018