PHILIPPA MUSIKANT
by herself

Early years in Artistic Gymnastics
My parents sent me off to a local gymnastics class when I was 7 years old, mainly because I was always found hanging upside down on a climbing frame or halfway up a tree. Within 12 months, I had been selected for a small development group and then directed to a competitive club.  As I was about to start secondary school further away, I moved to Ladywell GC near Lewisham, where I was coached by Bill Downey and Yvonne Arnold. On Bill's retirement, at the age of 13, I moved to train under the watchful eye of Bill and Maria McLoughlin, training at St Mary's College, Strawberry Hill, West London, but under the guise of Tameside GC, training alongside great gymnasts including Susan Cheesebrough and Jackie Bevan. Holidays would be spent travelling solo on a train to Stalybridge, Manchester, to stay with Maria's parents, Norman and Agnes Gough.
It was with Bill M that I first competed in junior international competitions, and represented Great Britain at the 1981 Maccabiah Games in Israel, reaching the vault final at senior level.
Eddie Van Hoof saw where my talent lay 
The next move to Hendon GC brought a different perspective to my gymnastics as a girl training in a boys' club.  Under the watchful eye of Eddie Van Hoof, he quickly saw that my forte was in vault and floor. Taking the silver medal on the floor at the 1982 Lilia-White Championships at Wembley Arena amongst the top young gymnasts in the country, it was clear that my power would lend itself well to a higher level of tumbling skills and so my journey into the world of tumbling (within the discipline of Sports Acrobatics) began.
Following Eddie's departure to Lilleshall NSC to be the Men's National Coach, Martin Ling stepped up to the challenge. Although a Men's Artistic coach, his technical expertise and foresight took me to the top of my sport on the world stage.  He realised my potential and I owe him a huge debt of gratitude.
Great Britain selection 
1986 saw my first selection for GB at the World Championships in Rennes.  I had only just recovered from a ruptured achilles tendon but, thanks to the wonderful John Aldridge, I made it to the competition, albeit to perform only part of the competition.
But then it was onwards and upwards, spinning and somersaulting along the tumble run.
A regular week's training would mean training 6 days out of 7 with a rest day on Saturday.  Mondays, Wednesdays and Fridays would be a double session – conditioning followed by trampolining to perfect the skills/techniques in the first session and then tumbling and more conditioning in the second session. Tuesdays and Sundays were just tumbling sessions, Thursdays were just a conditioning session.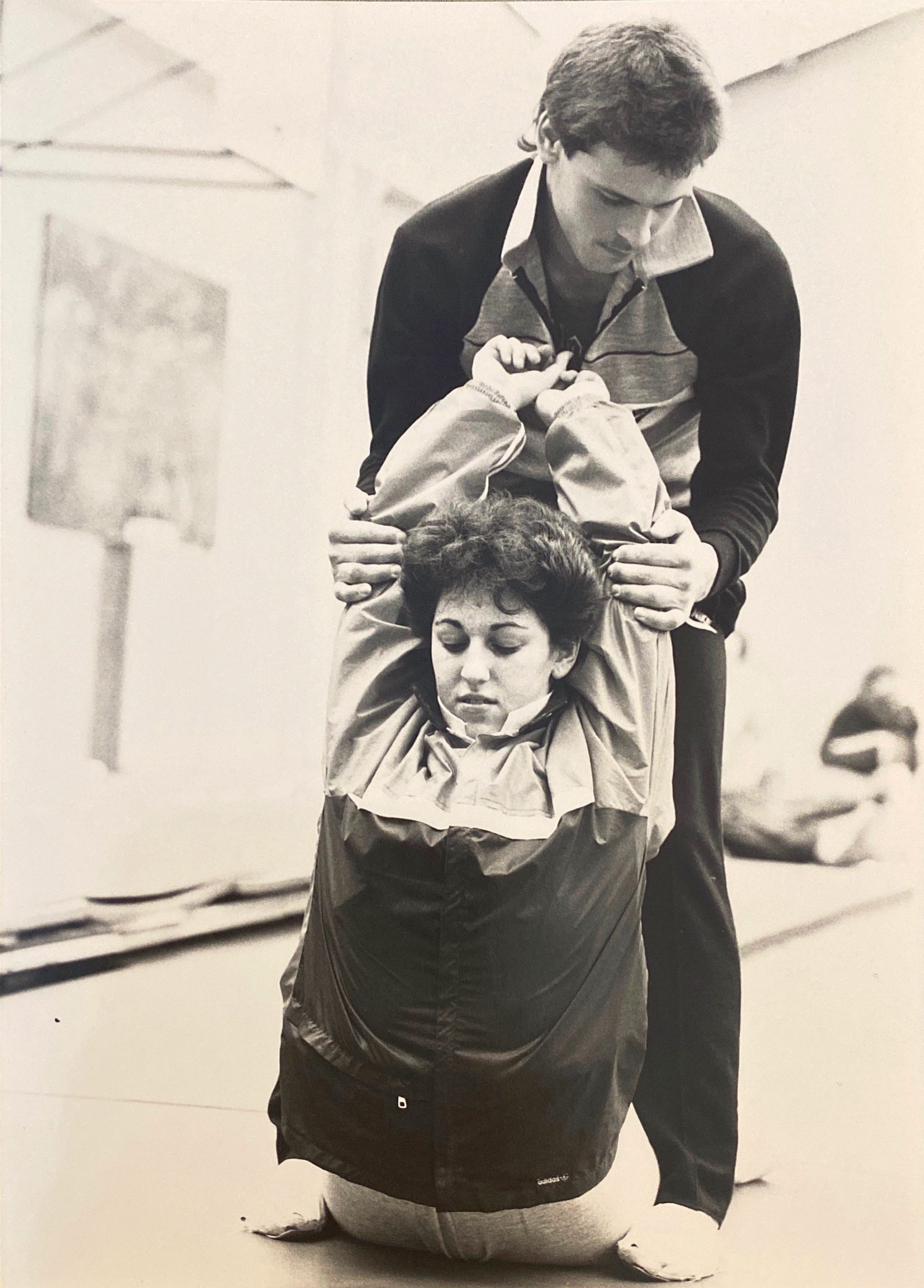 Above – Phillipa being stretched by Ian Mathews at National Tumbling squad, age 21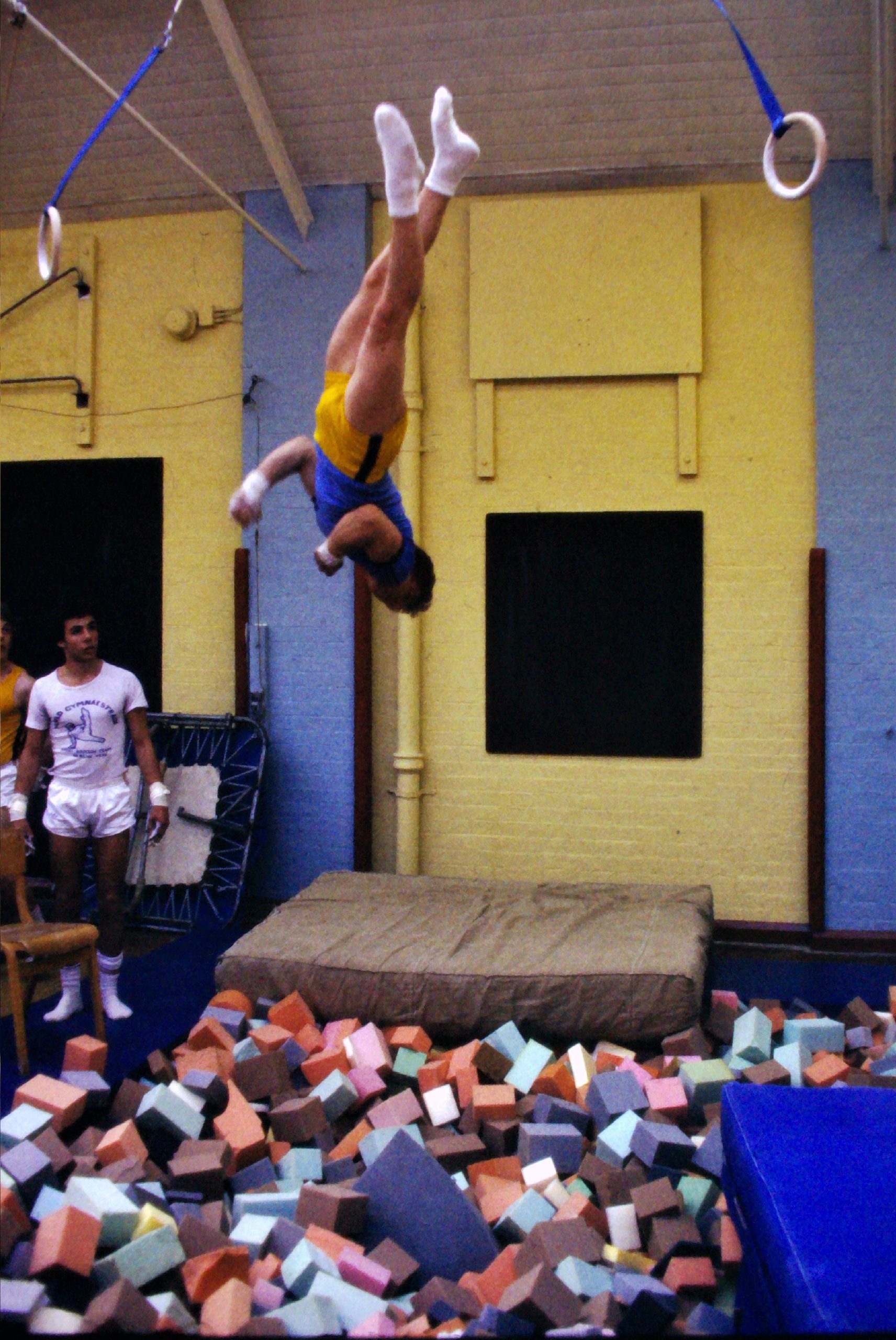 Above – The pit opening at Hendon Gym Club in May 1978 – photo Alan Burrows
The challenges of training 
However, training at the famous old army drill hall in Algernon Road, Hendon, meant that the length of the tumble run was only 15m and then a foam pit at the end (which I had to fill with mats and a firm cover each session for landing). This meant that in order to train my full competitions runs, I needed to perform half, run back and then complete the other half from a skip step.  
With few and far between full length tumble run facilities in the country, being able to now drive, I would travel from London to Lilleshall NSC every other weekend, fit in 4 training sessions – one on Friday, two on Saturday, one on Sunday and then drive home.
Once every 2 months that weekend drive would be for National squad training.  
British Champion 
From 1987 to 1993, I became British Champion six times and won 20 World and European medals. From 1990 at each of these major events, I was also selected as team captain, which was a great honour and privilege.
To be the first female GB tumbler to win a World medal (on my 21st birthday in 1988) will always be a significant moment in my life.  It is this achievement that is marked on the wonderful wall at Lilleshall NSC of historical moments in British Gymnastics. 
I have been privileged to travel to many parts of the globe including many that are not the usual travel destinations.  From the USA to Japan, Western Europe, Middle East and of course Eastern Europe. It is Eastern Europe where I probably spent much time travelling to, not only for competitions but to train with the world's best coaches.
Matei Todorov becomes National Coach for Sports Acrobatics 
With the arrival of Matei Todorov as National Coach for Sports Acrobatics in Great Britain in 1988, his contacts enabled me to travel to Bulgaria and Russia (or the Soviet Union as it was then) on many occasions to train under the watchful eye of their coaches as well as with their gymnasts, many of whom were World Champions.
In the initial stages of my international career, I only focussed on the competitions, seeing very little other than the accommodation and competition venue, but as I became more confident on the international platform, I always made time to see where I was visiting and learn a little about the history and culture, with the mind-set that I may never have a second opportunity to travel there.
Experiences and memories 
I think one of my favourite memories has to be the multi-discipline competition that I was selected for in Evian, France.  The team consisted of one male or female tumbler, one Male or Female artistic gymnast, one Women's/Men's or Mixed Pair, one male or female trampolinist, one diver and one hot-dogger (think Eddie the Eagle into water).  The whole event took place outdoors on the beautiful banks of Lake Geneva and through the town of Evian. We performed displays, street entertainment and then the competition.  The difficulty was that the sun was shining brightly and the tumble run top cover was canary yellow!
Alternatively, I have had some interesting experiences.  I received a selection letter from BG advising I was off to Kurgan, Russia for an invitational international competition. Take warm clothes and dried food such as noodles we were advised.  The plane touched down in Moscow to grey skies and light rain.  Met by some Russian delegates, we thought we were headed to the internal domestic airport for our second flight.  No such luck, as the train station comes into sight, we were informed that we would be going on the Trans-Siberian railway for 44 hours. And the previous week summer had arrived in Siberia so expect temperatures of 75 – 80 degrees! 
Moving on 
Whilst I was training, I had already started coaching recreational gymnastics and a small development squad.  I had set up several after school gymnastics clubs in the local area, which also served as a good talent id platform. So after retiring from competitive gymnastics, more schools contacted me and I led a team of coaches delivering this programme and mentoring them simultaneously.  I developed the young squad at Hendon and also coached 2 – 3 tumblers, one of whom, Becci Mornington, went on to become British Champion in 1996.
I also trained for the London Marathon alongside my brother raising much needed funds for charity, in 1996.
After marrying a Scotsman in 2000, I moved to Glasgow and became the Performance and Excellence Manager for Scottish Gymnastics, but I missed the practical side of coaching and not long after, was appointed as the High Performance Coach for gymnastics at the Glasgow School of Sport.
In 2010, we re-located back south to Hertfordshire, where we still live.  This big change for my children (daughter Charlie now age 21 and son Alex age 19) meant that I decided to leave coaching at elite level and go back to my first love in the sport, coaching at grass roots level and talent identification, passing any young gymnasts with potential onto performance clubs and coaches. 
Aside from my part-time gymnastics coaching and full time employment as a human capital growth/payroll consultant, I also help children with gross and fine motor skill development, especially handwriting.  Outside of work, I run regularly but more often than not can be found enjoying a round of golf. 
Progress 
The progress that has been made in the sport of gymnastics is quite incredible over the past 20-30 years, in Great Britain. The equipment, the facilities around the country, the knowledge and expertise of coaches, the support network such as physios and psychologists, lottery funding, the support for and avenues open to the gymnasts after they retire are just a few areas that make gymnastics an even greater sport than it was, but has also put GB on an even level with the rest of the world.
My greatest delight is that all the disciplines including tumbling are now being seen. To be able to watch the GB tumblers on TV/social media and know their success is being recognised is a great step forward. To see packed stadiums for the British Championships and most recently the Commonwealth Games and European Championships, multi-sport events, with the gymnastics results making front page news.
by Phillipa Musikant
Published January 2023
CLICK IMAGES TO VIEW FULL SIZE
© GymnasticsHistory.co.uk 2023  |  Est. 2018