CARRIE PICKLES

by Meg Warren
with Jill Livingstone nee Pollard

Carrie was born in Wilsden near Bradford. Carrie joined Bradford Gym Club in 1919 and was coached by Edwin Hirst who was the Olympic Coach for the women's team in 1928.
In 1928 she was selected for the women's team to compete at the Olympic Games Amsterdam. This was the first time that women gymnasts were able to compete in the Olympics although there had been many displays by women at earlier games. Five teams took part with Holland winning the gold, Italy the silver and Great Britain the bronze. It was a team event only for the women which consisted of a group exercise, group work on parallel bars, swinging rings and vault.
Her other achievements were Yorkshire champion in 1924, '25, '26 and British champion in 1927, '28, '29.
Above – British Gymnastics Women's Artistic Champion Carrie Pickles performing the Crow's Nest on Rings. Photo – Family Pickles/Pollard archive
CLICK IMAGES TO VIEW FULL SIZE
Carrie retired in 1930 and took up teaching and coaching. She coached at Bingley Gymnastics Club and in 1939 moved to an ex-army hut in Saltaire. In the early forties she moved to Victoria Hall, Saltaire to start 'Saltaire Ladies Gym Club. As the coach to Saltaire Ladies she trained many champions from beginners to Olympic standard. Saltaire won many team events in Yorkshire, Northern Counties and British Championships.
She coached the Northern Counties (Scotland, North East, North West, Yorkshire) team for the Belgium Festival in 1938. The team took 1st, 2nd and 3rd places.
She went on to become the coach at Olympic Games London in 1948 and again at the 1952 Olympic team in Helsinki.
In the fifties' she decided to qualify as a PE teacher so went to Loughborough to train. This must have been quite something a lady of her age to be training for such a profession- she must have been the oldest mature student at PE lectures.
She was appointed a Life Member of British Gymnastics in 1951 and was presented with a Certificate and Medal by command of the Queen on the occasion of Her Majesty's Silver Jubilee on the 7th June 1977.
She then went on to teach at schools in Bradford and Keighley. She taught keep-fit 3 nights per week and 2 nights and Saturdays with Saltaire G.C She eventually taught gymnastics at Leeds Athletic Institute on a Sunday.
Carrie died at her daughter Jill's home in Scotland.
10th May 1904 – 18th March 1984.
Footnote
Carrie had two daughters who both did gymnastics. Jill went on to become a member of the 1960 British team for the Rome Olympics. She then went into coaching artistic gymnastics where she was very successful. British Champion Anne Parkinson along with Barbara Alred, both members of the 1972 Olympic team were part of her gymnastics squad at Saltaire. Not satisfied with that Jill then turned her attention to the new sport for GB of Sports Acrobatics and was instrumental in introducing this discipline to many clubs within the UK. GB entered a team into the 1976 World Acrobatic Championships, all the team were from Acro One, Jill's club except 2 gymnasts.
In 2018 Carrie Pickles was recognised and remembered by the erection on a blue plaque in her home village Wilsden.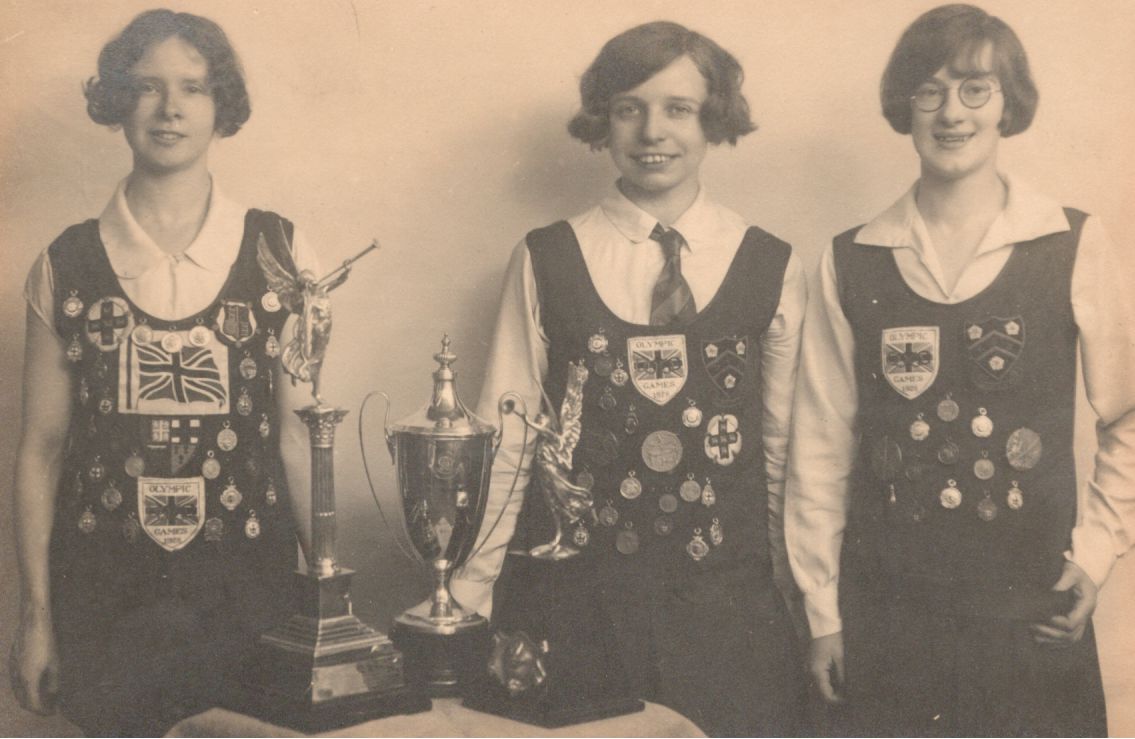 Above – British Gymnasts Carrie Pickles, Annie Broadbent and Amy Jagger. Photo – Family Pickles/Pollard archive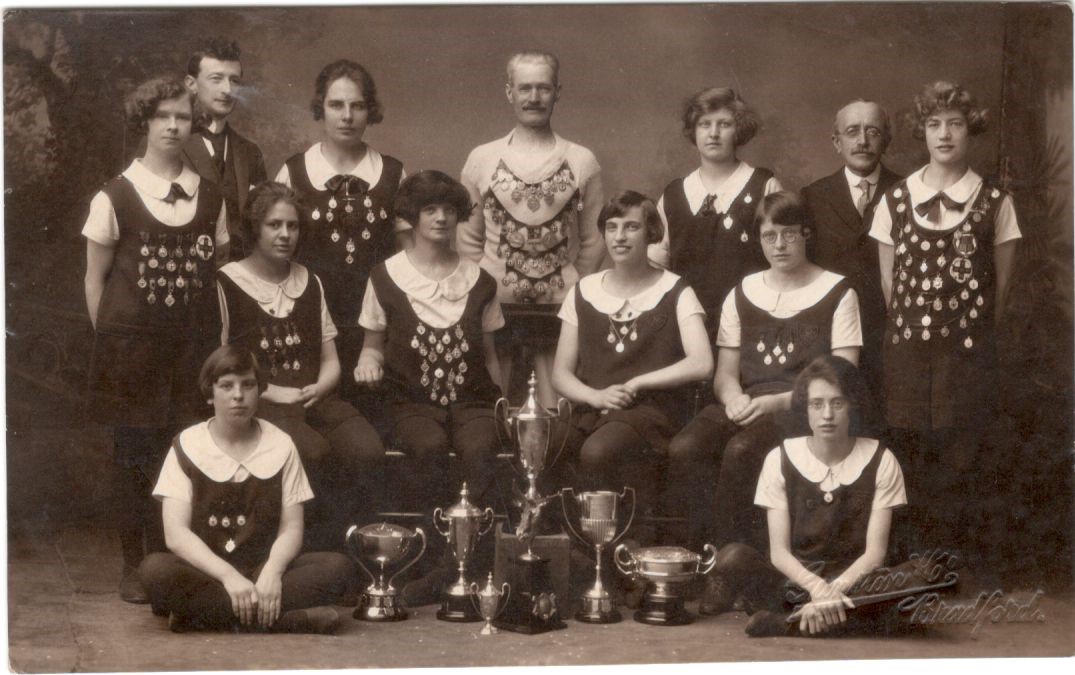 Above – Bradford Gymnastics Club with Carrie Pickles and Eddie Hirst circa 1928. Photo – Family Pickles/Pollard archive
Press cutting of Carrie Pickles & Ann Broadbent from 1980
As controversy rages round the world about whether to boycott this year's Olympics Games in Moscow, the thoughts of two elderly women to the west of Bradford drift back more than 50 years to the time when they won Olympic medals.
Ann Broadbent of Shelf, near Calderdale, and Carrie Pollard of Bingley were both members of the women's gymnastics team which came 3rd in the 1928 games at Amsterdam.
Two other members of the team also came from this area, Amy Jagger of Halifax now living somewhere in Lancashire and Margaret Hartley of Bradford who is now dead.
Miss Broadbent has 2 bronze medals, one for the team's third place and another for taking part. They are substantial medals too, and weigh 3 ounces each.
The Olympics were so different in 1928 before world wide TV and modern ballyhoo, Miss Broadbent recalls. "We were pleased to be chosen and looked forward to going but I don't think anyone was especially thrilled".
No one knew much about the games- no women had ever taken part before. It was really no more remarkable than say the northern counties championships.
"We went to London a few weekends before the games and stayed with members of the London Club and practised together. I had to take my week's holiday from Ramsden Brewery to go to Amsterdam".
"I saw Lord Burghley win the high jump and I think he broke the record. We were terribly trilled about that of course."
"I won the British Championships (English) in 1930 and then retired. The next Olympics were in Los Angeles and I thought I had no chance of going there because I would never be able to get the time off." (As it happened, women's gymnastics was not part of the 1932 Olympic programme and the men did not go due to the costs)
Press cutting of Carrie Pickles & Ann Broadbent from 1980 (cont'd)
Mrs Pollard was a secretary at wool Textile Supplies in Bradford in 1928 and recalls, "Gymnastics was merely a hobby with us then. In competition we wore divided skirts and a blouse, long woolly stockings and gym shoes and a hair net so that your hair was not flying about. Nowadays in a leotard you are as free as the air."
"In Amsterdam we wore a white dress, blue blazer Panama hat with red white and blue bands and a red, white and blue tie."
"There was a big reception and I was the gymnastic representative for the ladies' team and was introduced to Queen Wilhelmina."
"There was no Olympic dais and we didn't get our medals until we got back to this country. They were sent on and mine was presented at our gym club."
"We had very happy time training in London beforehand. The night before we sailed we stayed in a hotel and none of us could sleep so we played cards all night."
Mrs Pollard subsequently coached the women Olympic gymnasts of the 1948 and 1952 and her daughter Mrs Jill Coulton took part in the Rome Olympics.
Mrs Pollard is very proud of a very large framed ninth Olympiad certificate in black and gold which hangs in her hall.
Miss Broadbent still has an Olympic identify card with the familiar five coloured rings. Now 71 she has had a hip replacement but still goes to the pensioners' keep fit class at Shelf Village Hall. She was in the Wrens during the war and when stationed in Hartland in Devon would walk 15 miles a day.
When Mrs Pollard started gymnastics at Bradford Gym Club it was based at the Old Grange school and she walked two and half miles from her home in Wilsden to catch tram at Allerton, alighted at Ingleby Rd and then walked up to Grange. "And I never missed for 3 years."
She was British Champion for 3 successive years 1927 – 1929 and holds a replica of the silver cup that she won. During the 1940s she founded Saltaire Ladies Gymnastic Club in its present form and helped to build it into a nationally known organisation.
Press cutting of Carrie Pickles & Ann Broadbent from 1980 (cont'd)
Should our Olympic team go to Moscow?
"Yes" says Mrs Pollard firmly. "I do think we should take part. I am sorry it has all happened like this. The Russians have been over every year for long enough and they are very popular and it would be such a shame if we can't take part". (In the 70s the Russians came to the UK giving sell out displays in London)
Miss Broadbent however says "I can't make up my mind. I know that if I had been hoping to take part I would have wanted to go but that would have been biased. We should do something to show disapproval of the Russians but I do feel for the people who have been working so hard for three years."
CLICK IMAGES TO VIEW FULL SIZE
© GymnasticsHistory.co.uk 2023  |  Est. 2018