KEVIN ATHERTON
by Himself

A sport with limitless possibilities
Growing up in the small town of Wigan in Greater Manchester, I remember life being so fast-paced as a child. My parents encouraged my twin brother Andrew and I to try as many different sports as possible.  It was gymnastics, however, that really captured our hearts and our imaginations. It's a sport with limitless possibilities, and this was something that lit that fire inside the two of us.  We were seven years old.
As a young gymnast, the challenges came from navigating your time between academics and training. I was lucky, in that I had parents, coaches and teachers alike who worked together to facilitate all my training needs.  My time was spent at school, or at the gym and rarely did I go out with friends.  I remember being totally and utterly dedicated to my training, and it wasn't long before my gymnastics took priority over everything else in my life.  Myself, along with my brother and our personal coach Martin Reddin worked tirelessly to achieve our successes.  One famous quote by Martin, to which we still refer to today (with humour of course), went as follows:
"Kevin is extremely talented. Andrew works hard." 
CLICK IMAGES TO VIEW FULL SIZE
Mental toughness
My early teens were spent training at the Central Manchester Gymnastics Club, under the guidance of my personal coach Martin Reddin and the Head Coach Colin Leigh. Those who were coached by Colin Leigh know that he was famous for his talks after each and every training session.  As a teenager, you don't fully appreciate the importance of sports psychology and the significance it can have on your overall performance and results.
Mental toughness is fundamental, and I'm extremely grateful to my personal coach Martin Reddin, Colin Leigh and the many other coaches and sports psychologists who helped me with mine.
Centralised training
At eighteen years old I was invited, along with my brother Andrew, Craig Heap, Lee McDermott, Dominic Brindle, Kanukai Jackson, Austin Woods and Paul Morris to centralized training at Lilleshall's National Sports Centre in Shropshire.  Under the guidance of our Performance Director John Atkinson and GB Coach Nikolai Liskovitch, we spent the next six years, training seven hours a day, six days a week. 
It's only when you fully submerse yourself into something can you realize your full potential. These years were the most fulfilling and rewarding years of my gymnastics career. I lived and breathed the sport, and I was able to do it with seven of the most professional and talented gymnasts in the country.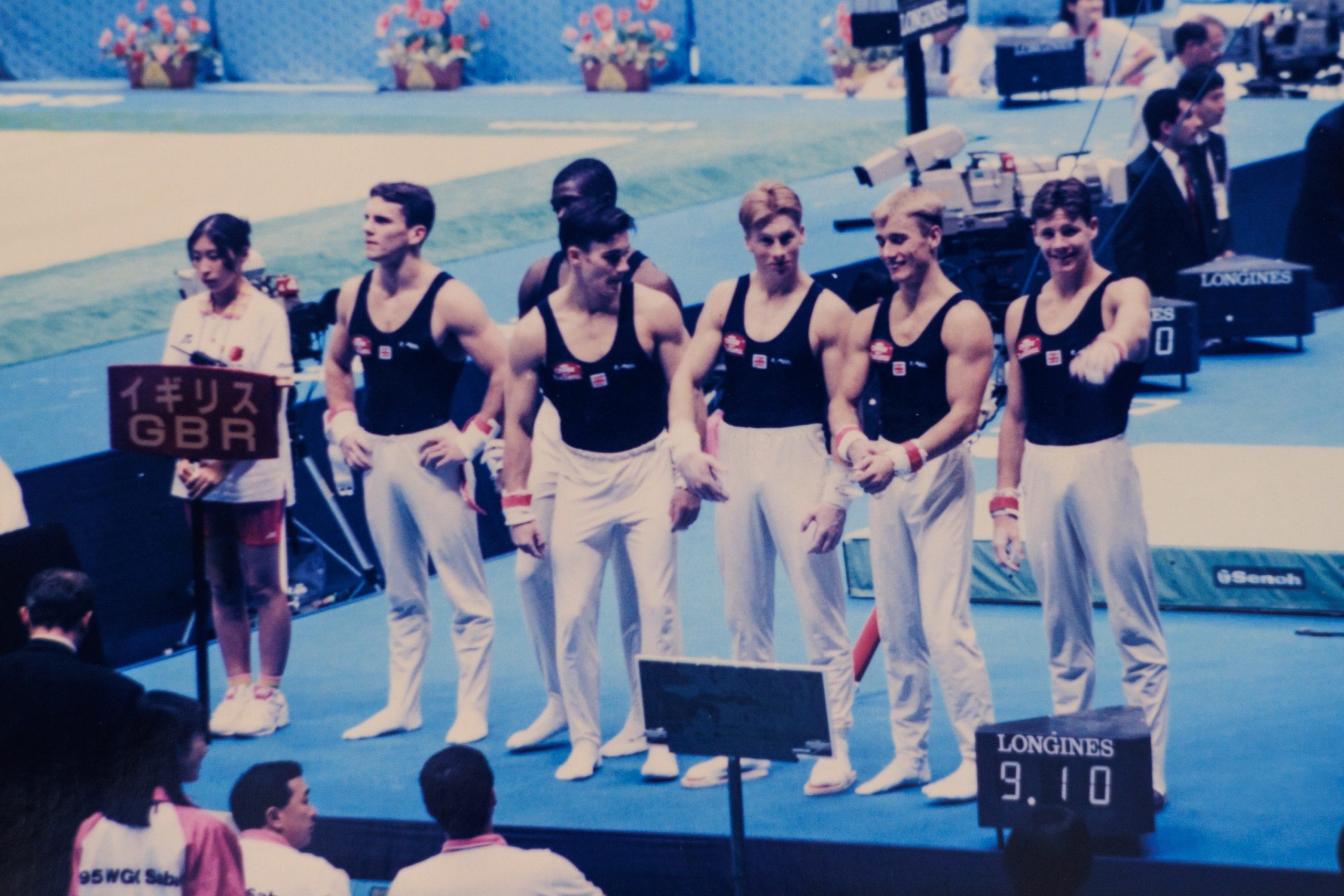 Above – GB Team at the 1999 World Championships. L-R Lee McDermott, Marvin Campbell, Austin Woods, Craig Heap, Kevin Atherton, Dominic Brindle.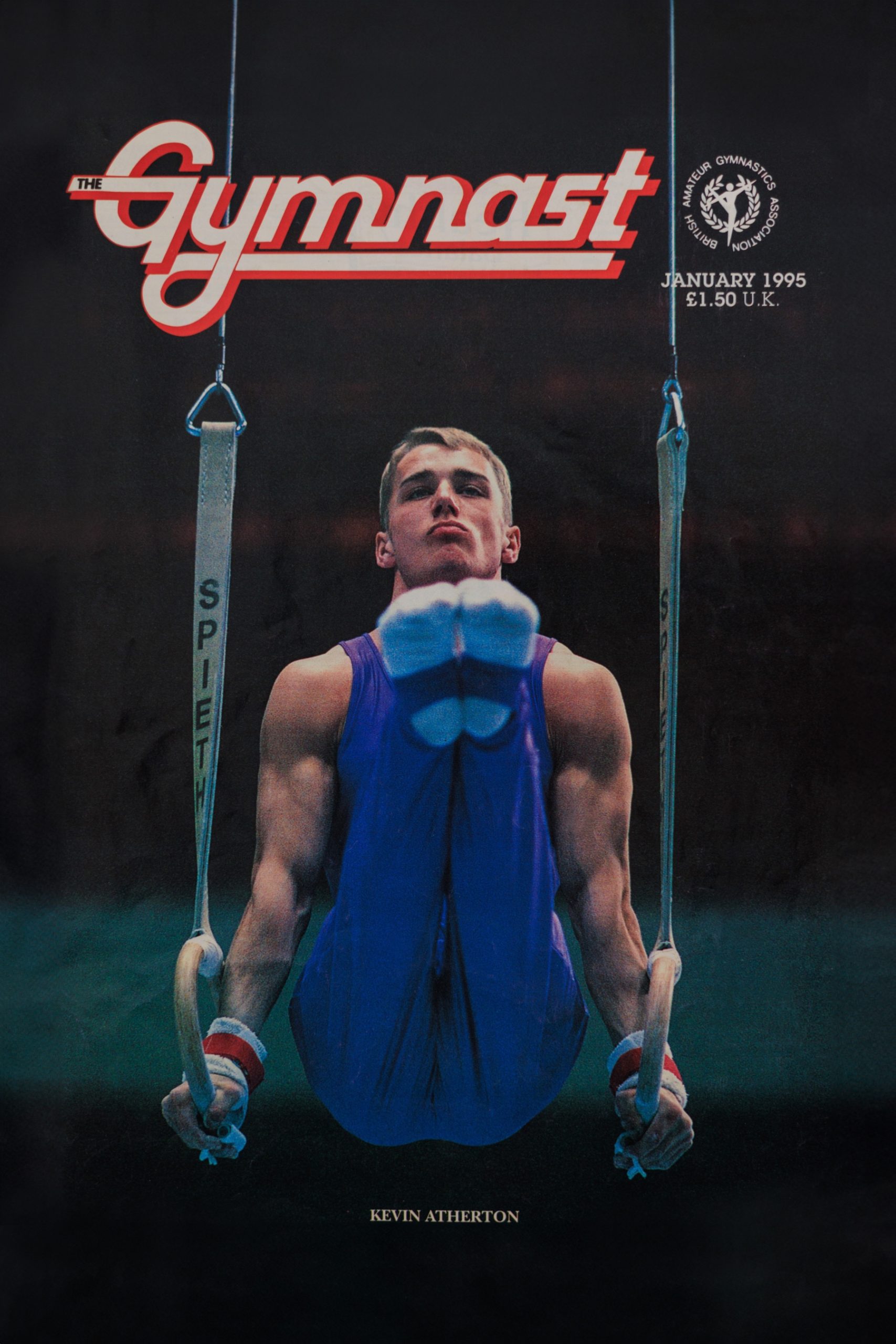 Above – Kevin on the front cover of The Gymnast Magazine in 1995 – photo Eileen Langsley/International Gymnast
British Champion at 22
At twenty-two years old I became the Senior British All-Around Champion. The year was 1997, which was undoubtedly the peak of my gymnastics career.
Below – Kevin with Martin Reddin after winning the British Championship in 1997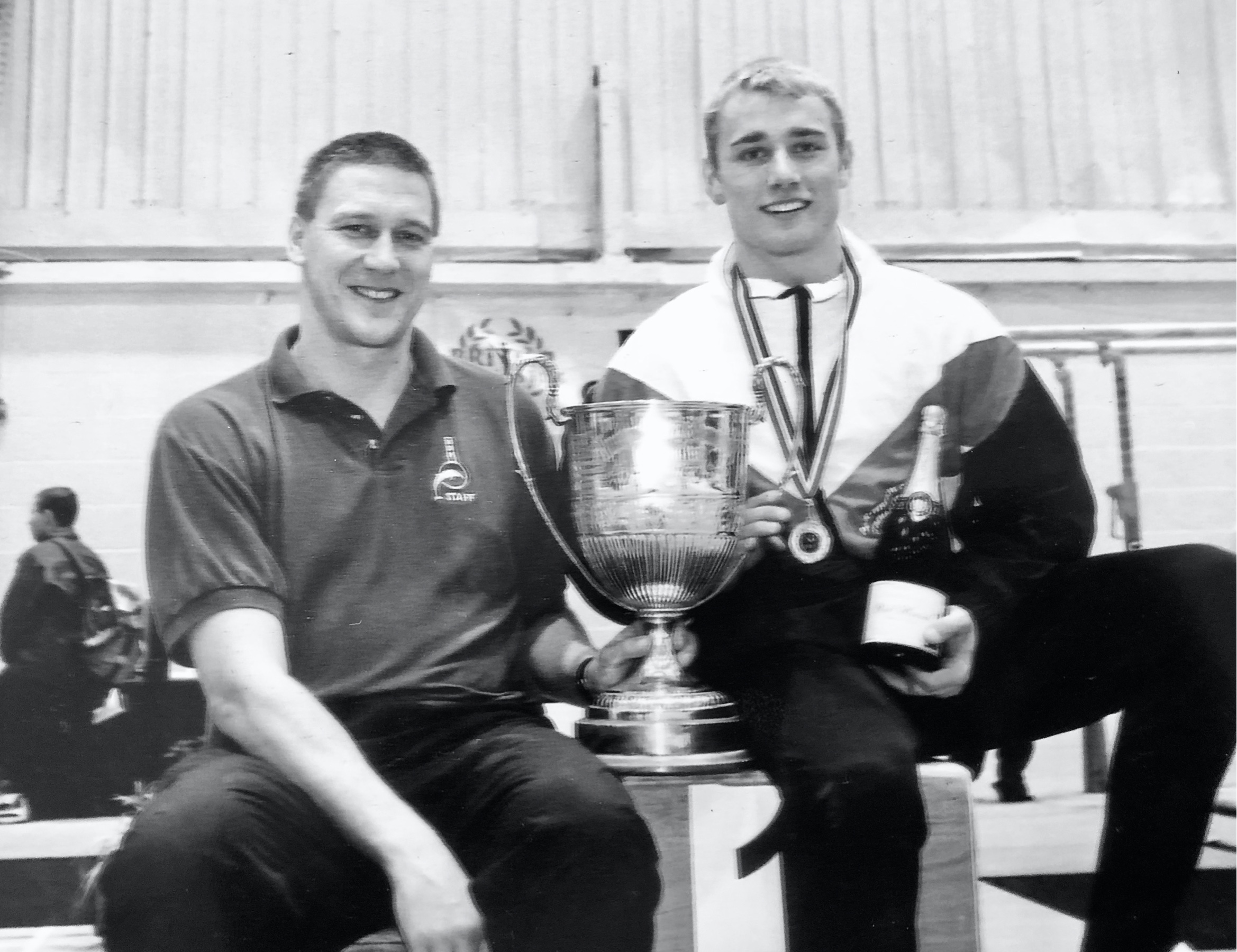 The following year, in comparison, would be my lowest. A career goal of representing England in the Commonwealth Games was shattered by an injury. Feeling very defeated and generally in quite a dark place, in comes one of the most influential people of my life..
The biggest impact on my life
Craig Lowther was the person at British Gymnastics who had the biggest impact on both my personal life and my gymnastics career, particularly in my final years of competition. At twenty-two years old, during an international competition, I suffered a knee dislocation whilst landing my vault, which resulted in me having to be removed from the team that would represent England in the up-and-coming Commonwealth Games in Kuala Lumpur.  I remember really questioning whether I could return back to the sport that I loved. 
At the same time, I was really struggling internally with my own identity.  I was gay and not ready to face that fact, for a multitude of reasons. Craig was the one person in British Gymnastics to whom I "came out".  I'll never forget that conversation. A conversation that really shaped who I was then, along with who I am today.  He reassured me that my injury was only temporary and, that not only would I make a full recovery, but that I would come back to gymnastics better and stronger. He also told me that it wasn't my sexuality that defined me as a person and as a gymnast.  It was my character, ethics and values that would do so.  He was right on both accounts.  My recovery took over twelve months, but I was back representing Great Britain at the next World Championships in China.
Retirement and Cirque
Following the 1999 World Championships in China, I retired from competitive gymnastics and accepted an offer from Cirque du Soleil for Andrew and myself to be a part of one of their shows.  Twenty-three years on, we're still performing the aerial straps act that we created with them. We consider ourselves very lucky to have been given the opportunities that have come our way; particularly by Cirque du Soleil, where we have spent half of our natural lives. A career highlight was certainly performing live at the 84th Academy Awards in Los Angeles, to a global audience of over two billion people.  Who else gets to fly over the heads of some of the most influential people in the motion picture and film industry, and all eyes are on you?  It's a moment we will never forget.
Gymnastics set me up for life
Our time as young gymnasts has been instrumental in all our successes.  Gymnastics gave us the skills and techniques to create such a unique act with Cirque du Soleil. It also gave us the discipline and mental strength to look after ourselves, as we matured as people, athletes and as artists.  
Nowadays I'm a family man. A single father to my son Luca, who was born via surrogacy. My goal in life now is to be the best father that I can possibly be. I consider Luca to be my greatest achievement in life, along with my biggest reward. 
CLICK IMAGES TO VIEW FULL SIZE
© GymnasticsHistory.co.uk 2023  |  Est. 2018