SUZANNE DANDO
by Meg Warren & Suzanne Dando

Early Days
Suzanne Dando was born in Balham, London, on July 3rd 1961. At age 6, her parents moved to Uckfield, East Sussex where she spent her childhood. Her gymnastics talent was first recognised at age 11 by her school physical education teacher, Anne Billingham after quickly passing all the BAGA awards. It was recommended she take up gymnastics and trialled in 1973 at Ladywell Gym Club in south-east London. Coach Pauline Prestidge quickly spotted her talent. Her parents would drive her to Lewisham from Uckfield 3 or 4 times a week for training. After winning Grades 6 & 4 National Championships and becoming the British Junior Champion, she and her family decided that she should move to London to further her gymnastics career in 1975. She initially moved in with Pauline & Jim Prestidge at their flat right by the new Ladywell gym at the Lewisham Centre and went to the local school, Catford Girls. Later, she moved in with relations and travelled home at weekends.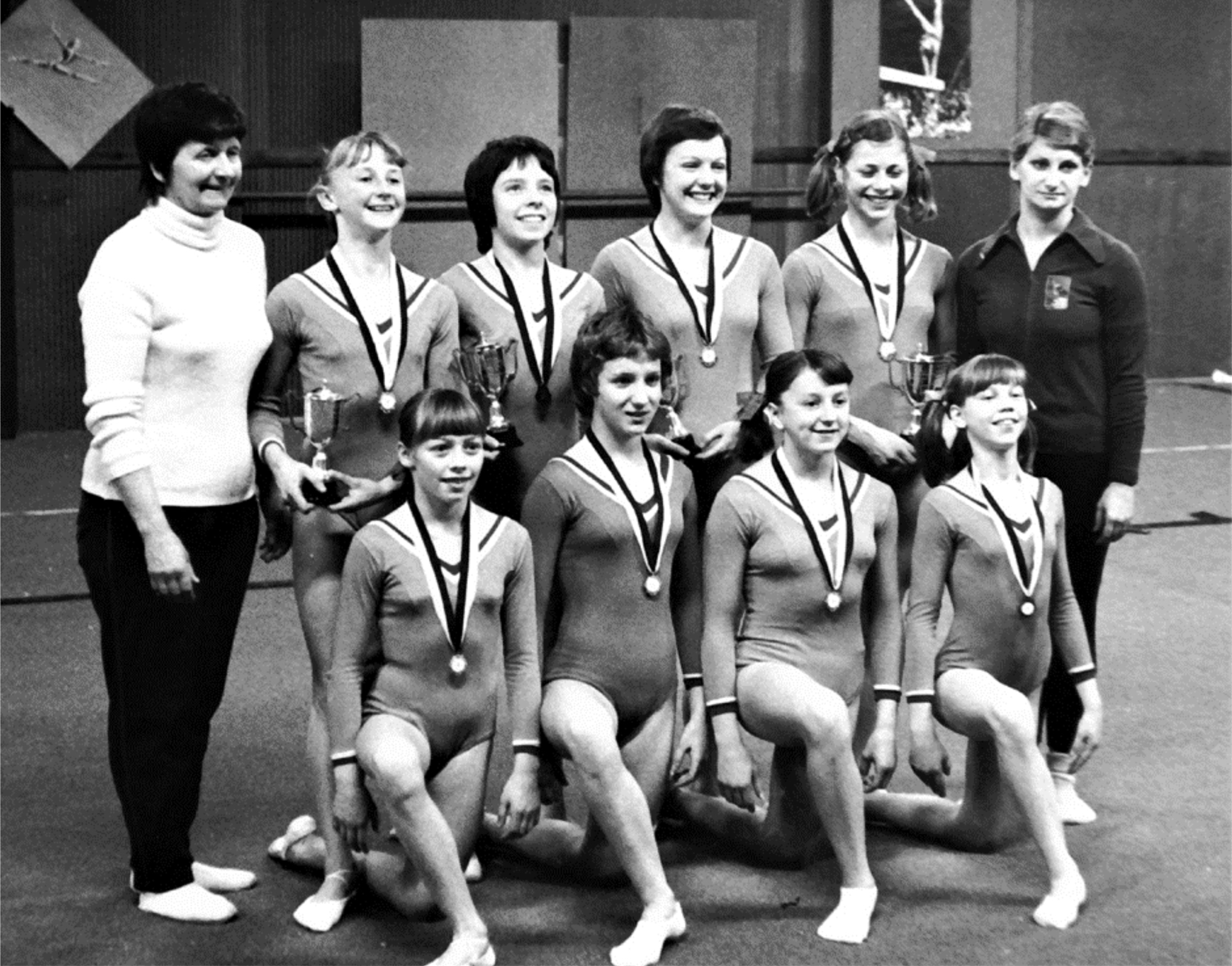 Above – Suzanne back row right with Pauline Prestidge left and Yvonne Mugridge right – photo Jim Prestidge
CLICK IMAGES TO VIEW FULL SIZE
What Suzanne has to say about those times
I was extremely lucky to be part of the Ladywell gym club. For me, the gym and the people there, be it coaches, gymnasts, or parents, were all part of our extended family. In the early days of my training, although we trained within our 'groups' we still all came together for warm-ups and dance lessons, it kept us together as a tight-knit group of teammates, whatever the ages.
The club really was my 'second home'. I would go straight to Ladywell after school. Mrs' P' (Pauline Prestidge) would cook my tea in the kitchen at the gym, and I would train through the evening. By this time, I was living away from home so I could be near the gymnasium and train every day. Being away from my parents and sister was tough, but having my 'gym family' around me played a pivotal role in my development. Through all the hard work, I still had a sense of normality.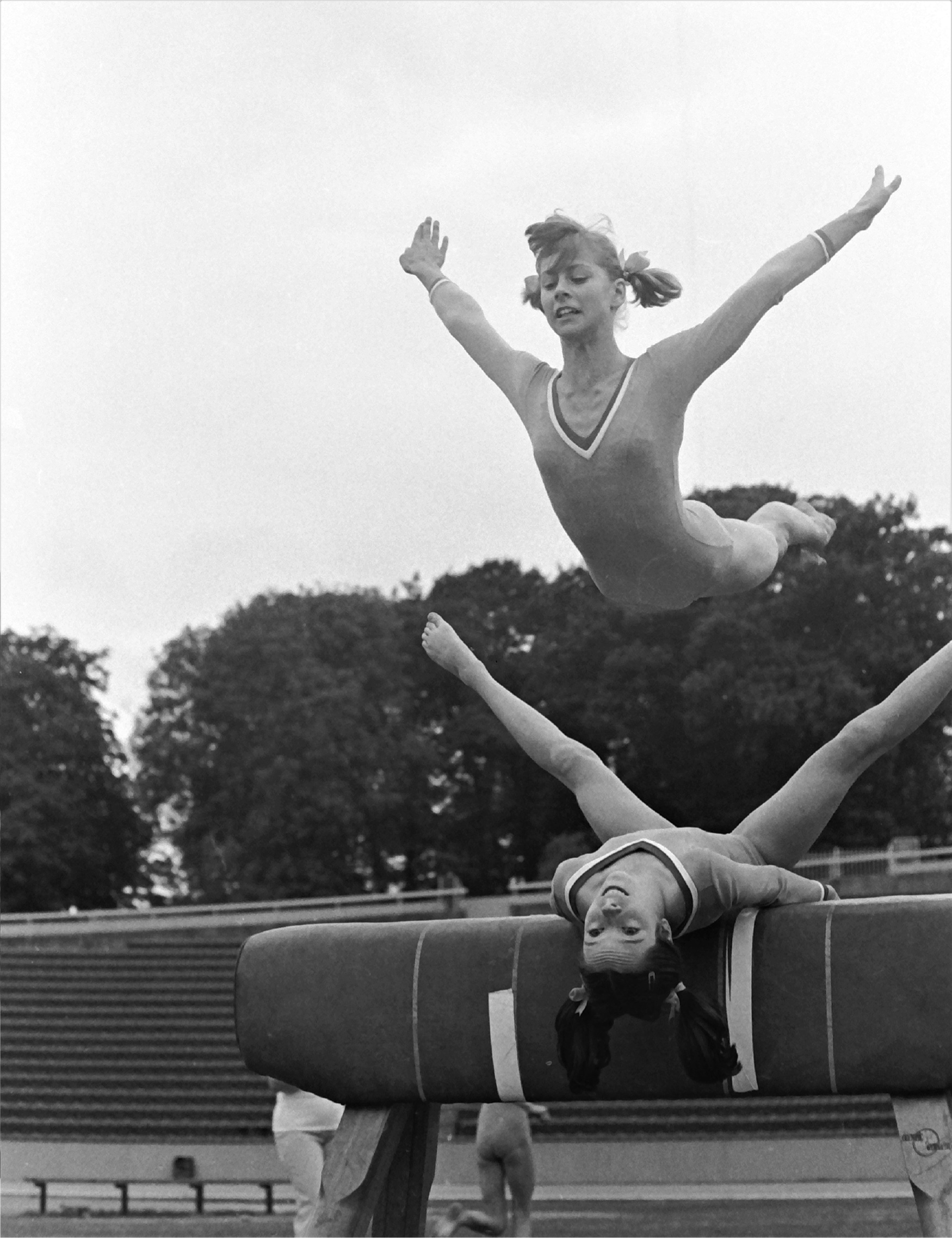 Above – Suzanne Dando performing with Ladywell at Crystal Palace – The Ladywell Club became well known around the South East so requests were made for the gymnasts to perform locally. Photo Jim Prestidge.
As I progressed and started to represent the country in international competitions, my training schedules increased, and how I trained changed. My hours spent in the gym would be split. I would train for a few hours in the afternoons, have a break and then carry on into the evening, but finish earlier. My training became more individual; rather than training as a group, we would spend a certain amount of time on each piece of apparatus with one or two other teammates and a coach. I would have a set programme that I would get on with; in between major competitions, I would work on new moves and difficulty, and when preparing for a competition, routines would be worked, refined, and practised over and over.
One of the most important things I learnt was 'never forget the basics'; without them, the difficulty does not happen. It's no good trying to throw a backflip if the cartwheel before it is rubbish! So, my gym sessions always started with warming up and practising the basics. The least enjoyable part was the strengthening at the end. I especially hated press-ups, but at 62, I'm still doing them; old habits die hard.
Admittedly, there were days when I simply didn't feel like going to the gym; these always turned out to be the most productive. I think training at a high level is not always about what you achieve physically; it's also about how you develop mental strength. The camaraderie of gym life was fun, and it was what kept me going through the toughest times. Five and a half hours a day, six days a week, was all-consuming, but it had to be; it was the most important thing in my life, and I loved every minute!
Early success
She first represented her country internationally in 1976, aged just 15, where she competed for Britain against West Germany. She performed at the Champions Cup at the Albert Hall for the first time in 1977 where she came 5th.

She went on to win many National titles, including British Vault, Beam and Floor championships, and in 1977, she was awarded a Sir Winston Churchill Scholarship and Churchill Fellowship, allowing her to spend time training at the Kips Gymnastics Academy in California during 1978 & 79.
A change of coach
In October 1977, her coach, Mrs P moved to North Staffs Gym Club, and Joyce Macaulay took over as head coach at Ladywell, now in its new centre at Lewisham. Brian Dewhurst and former British Champion Yvonne Mugridge trained Suzanne from then on.
She continued to be a regular member of the British team and returned home in May 1979 to compete in the British Championships. Unfortunately, she sustained an injury and was unable to compete, which then ruled her out of the squad for the 1979 European Championships.
On recovery, she went on to represent her country as team captain in the more competitive arena of the 1979 World Championships at Fort Worth, in Dallas, gaining her FIG Gold Pin.
In 1980, Suzanne won the 'Champions Cup' title at the Royal Albert Hall. In May of the same year, she became the overall British Champion and went on to lead her teammates, Susan Cheesebrough and Denise Jones, to the 1980 Olympics in Moscow, where she qualified for the All-Around final, finishing 27th.
Suzanne retired after the Olympics, having suffered her fair share of injuries. Suzanne later revealed to the UK press that she had struggled with anorexia whilst a gymnast due to time off from training to recover from injury. At one point, her parents and coaches banned her from training until she regained her strength and started eating properly.
Following retirement, Suzanne coached the Under Fives in gymnastics at the Lewisham Leisure Centre in South London.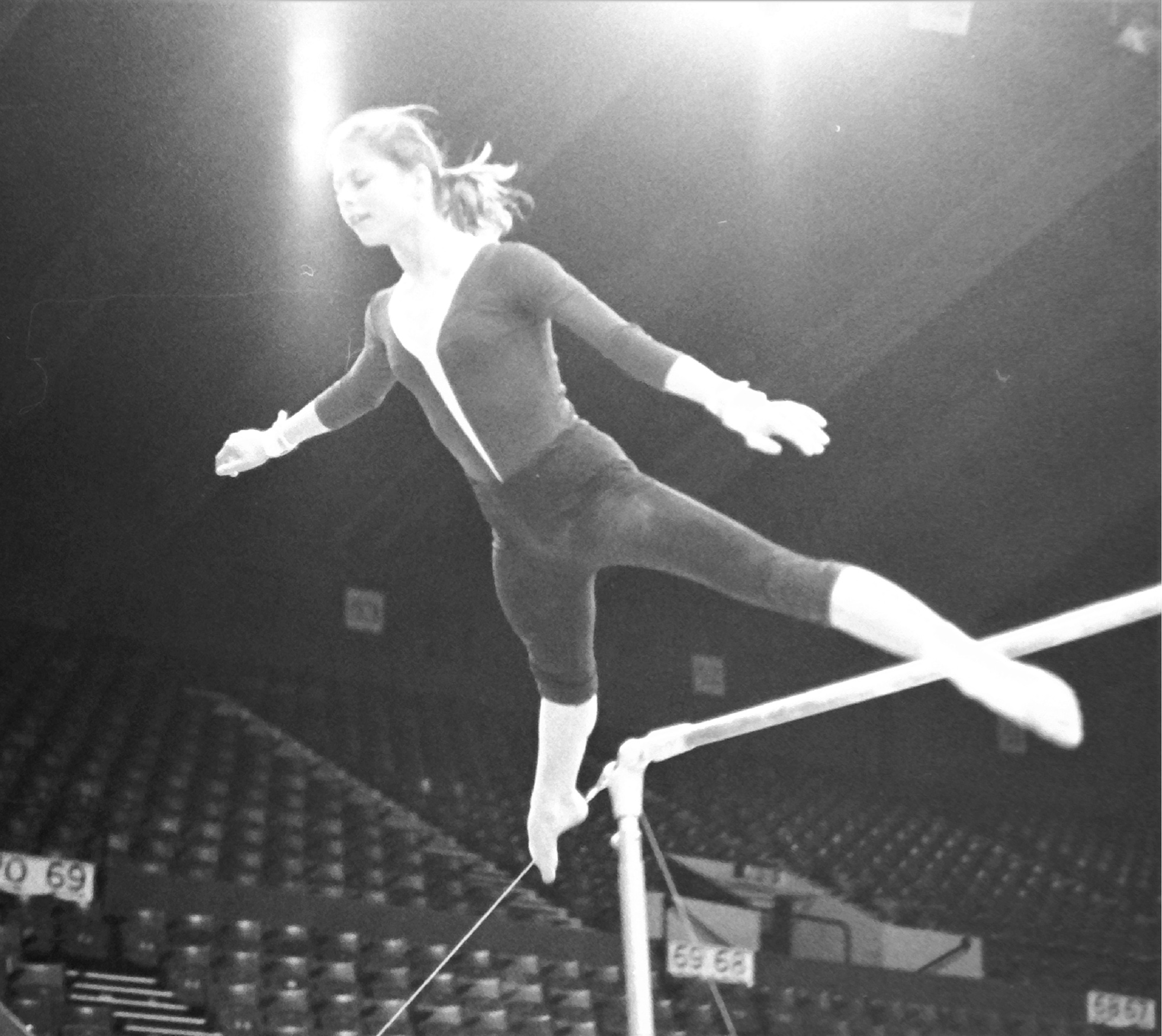 Above – Mrs P was good at finding opportunities so  Suzanne and other Ladywell gymnasts got in some extra training at Wembley prior to the staging of the 1975 World Cup.
Suzanne's gymnastic achievements
Lilia-White Championships: 1st on bars

British Vault Champion

British Beam Champion

British Floor Champion

Coca-Cola International v China 1979: 7th AA

World Artistic Gymnastics Championships 1979: 16th AA

Champions Cup 1980: 1st AA

GB v Hungary Meet 1980: 3rd AA

Champions All 1980: 6th AA

Cottbus International 1980: 14th AA

Summer Moscow Olympics 1980: 27th AA
Superstars Champion
In 1982, after a year's training, she competed in and became the BBC Superstars Champion. She also completed her first London marathon the same year, raising money for Leukaemia research.
In 1983, she was the gymnastics coordinator and appeared in the Bond film Octopussy with Roger Moore.
Suzanne has had a career in Broadcasting and show business since 1982, serving as a presenter on a variety of programmes for BBC, ITV, Channel Four and Sky TV. 
Suzanne started her TV career with the BBC, presenting three series of the children's programme 'Stopwatch' with Daley Thompson & Janice Long. She joined Sky Sports in 1993, where she became a member of the presenting team on Sports Saturday. 
Charity Work
Suzanne has been a Patron of Against Breast Cancer (ABC) since the early 1990s. (Her long-term friend and former gymnastics team-mate, Sue Jackson, died from the disease aged only 51). She has participated in many of their fundraising events over the years, such as launching their annual Oxford Bike Ride and more recently launching the charities' first 'Breast walk Ever' a marathon walk throughout Oxfordshire.
Suzanne has rescued a number of dogs, cats & horses. She currently lends her support to the Dogs Trust and Blue Cross by sponsoring dogs, and actively supports her local RDA (Riding for the Disabled Association) and has recently become a Patron for World Horse Welfare. She was awarded the British Empire Medal for services to charity. 
What were your high points?
 My high points: Of course, reaching the Olympics and being selected as Captain of our Olympic team has to be top of the list of high points, but there are many that come so very close! I do believe any sportsperson, when asked this question, would probably say the same. It is the ultimate accolade, not only because you have the privilege of representing your country, but to have the opportunity to do this at an Olympic Games is what every athlete aspires to and works so hard to achieve.
Coming very close, or even on a par, would be the day I became the British Champion. I had come very close a couple of times before, but the moment that was so special was after receiving my trophy and medal; I immediately took it over and handed it to my parents. The look on my dad's face will stay with me always. My gymnastics journey up to that point happened because of the people around me, the coaches and especially my family. Whilst every sportsperson has to be individually minded, determined, and dedicated, no one can do it without the support network that is there from a very wide group of people.
Who inspired you as a gymnast?
It was Olga Korbut who was my inspiration. My parents had just bought our first coloured TV, and I remember watching her perform in the 1972 Munich Olympics. That famous white leotard with the red band was every young girl's dream to own! When she lit up the gymnastics arena with original moves and difficulty we had not seen before, I stood balancing on the back of my parents' sofa and aged 11, my decision was made. I wanted to be the next Olga Korbut!
What do you think you gained from being a gymnast?
Gymnastics, as with all sports, taught me many life skills. Not only how to win, but to be gracious in winning and losing, in all walks of life, be it sport or career. It taught me the importance of commitment. How to always give 100%, it may not always result in success, but what's important is to always give your best.
I'm now studying for a BA Honours degree in English Literature with The Open University. Without the skills I learned as a gymnast, I would not be focused or committed enough to keep going. I'm halfway through, and although it is a learning curve academically for me, I'm determined to achieve what I have set out to do.
What do you think of the gymnasts of today?
British gymnastics has come such a long way since my competitive days. It's so exciting to watch our young men and women compete on an equal playing field with the world's best and win! The competition is very high, and mere fractions often separate the top competitors. The gymnasts of today, I feel have a tougher time when competing at the very highest levels. The pressures are greater as the difficulty needed has expanded so much, but this has made the sport even more exciting.
Story by Meg Warren and Suzanne Dando
Published September 2023
CLICK IMAGES TO VIEW FULL SIZE
© GymnasticsHistory.co.uk 2023  |  Est. 2018